Product Description of The Abbott & Costello Show – 100th Anniversary Collection Season 2
Is Who still on first if it's the second season? You'll find out with this rare and riotous collection honoring the 100th birthday of Lou Costello and featuring the landmark Abbott & Costello Show that Jerry Seinfeld calls the inspiration for his own hit series!
This remarkable 5-disc collection contains all 26 episodes of the second – and final – season (1953-1954), complete and unedited, digitally remastered, looking and sounding better than ever.
PLUS: Never-before-seen home movies of Lou Costello and his family from the 1940s and '50s – many in full color with sound! (Even Bud manages to make a few "guest appearances.") To round things out, Lou's daughters, Paddy and Chris, share warm and wonderful anecdotes about their father in exclusive interviews. A treasure for Abbott & Costello fans everywhere!
DISC ONE of The Abbott & Costello Show – 100th Anniversary Collection Season 2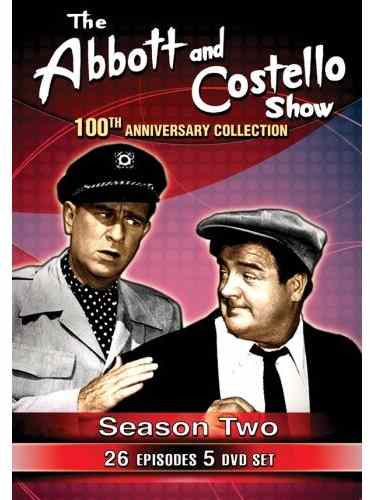 The Paperhangers – Mr. Fields forces the boys to hang wallpaper to help pay off their rent.
Uncle Bozzo's Visit – Lou's uncle, an Italian opera singer, visits, and his singing annoys Mr. Fields.
In Society – Bud & Lou are hired to pose as British noblemen at a swanky party.
Life Insurance – Mr. Fields demands the boys take out life-insurance policies that name him as beneficiary, but neither can pass the physical.
Pest Exterminators – The boys exterminate the ants at a rich lady's house, but she thinks they have killed her aunts.
Killer's Wife – A jealous boxer and his sexy wife rent a nearby apartment and Lou is suspected of carrying on with said sexy wife.
DISC TWO of The Abbott & Costello Show – 100th Anniversary Collection Season 2
Cheapskates – The boys accidentally buy a crate of roller skates – which contain ill-gotten gems.
South of Dixie – Lou overhears a man and girl rehearsing a Civil War play and thinks the danger is real. Inspired by Buster Keaton's The General.
From Bed to Worse – The boys try to win a prize for having the best backyard garden and wind up angering their neighbor.
$1000 TV Prize – Lou answers Mr. Fields' phone and inadvertently wins a thousand-dollar prize.
Amnesia – When Lou prepares to marry a girl he's only corresponded with, Bud convinces him he has amnesia and has already married a shrew.
Efficiency Experts – The boys are hired to help control a man's daughters, who spend too much money. But they end up losing their money in a casino.
DISC THREE of The Abbott & Costello Show – 100th Anniversary Collection Season 2
Car Trouble – Lou wins a car in a contest, but it's a lemon, so they drive to Flint for another.
Wife Wanted – Lou tries to marry his old girlfriend so he can inherit $10,000 but she's now dating a jealous wrestler.
Uncle From New Jersey – To avoid eviction, the boys convince Fields that Lou has a millionaire uncle. Lou winds up masquerading as his own uncle.
Private Eye – Lou takes a correspondence course to become a detective, and then tries to help a girl recover some old bonds.
The Tax Return – The IRS accidentally sends Lou a check for a million dollars. He cashes it and is followed by thugs.
Public Enemies – When Lou is mistaken for a fellow safecracker, the boys get involved with crooks planning a robbery.
DISC FOUR of The Abbott & Costello Show – 100th Anniversary Collection Season 2
Bank Holdup – The boys are hired as bank guards by two robbers masquerading as Brinks guys.
Well Oiled – Lou poses as a millionaire to help Mr. Fields get out of a breach-of-promise suit.
The Pigeon – Lou is set up by his sexy neighbor to take the fall for her infidelity, so that Lou is the one who gets killed by her jealous mobster boyfriend.
Honeymoon House – Lou, Bud, and Mr. Fields try to build a pre-fab house for Lou's fiancée. Inspired by Buster Keaton's One Week.
Fencing Master – Bud volunteers Lou for a science experiment that makes him immune to pain.
Beauty Contest Story – The boys judge the Miss Mud Turtle pageant, in which Mr. Fields' niece is a contestant.
DISC FIVE of The Abbott & Costello Show – 100th Anniversary Collection Season 2
Fall Guy – Two men hire Bud and Lou to take their girls out in order to circumvent their father, who doesn't like these guys.
Barber Lou – Bud enlists Lou to give him a massage.
BONUS FEATURES
Interview With Lou Costello's Daughters (Part Two)
Lou Costello's Home Movies (Part Two)
The Actors Home (contains Who's On First)
Total Running Time: Approx. 800 mins.