DVD review of One Night in the Tropics (1940), the first Abbott and Costello movie, starring Bud Abbot, Lou Costello
By all rights, One Night in the Tropics shouldn't be an Abbott and Costello movie at all. It was a typical 1940's romantic musical comedy, starring Allan Jones (perhaps most famous for Showboat as well as his work with the Marx Brothers in A Day at the Races and A Night at the Opera), Bob Cummings and Nancy Kelly. However, Universal Pictures had just put a pair of radio comedians under contract and wanted to give the pair, known as Abbott and Costello, a small part in the movie as comic relief, to see how they would do.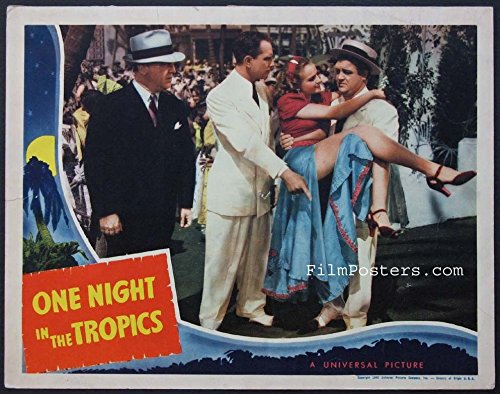 Bud Abbott and Lou Costello responded by stealing the show — literally. Every scene that they filmed had the film crew roaring with laughter, prompting the producer to keep expanding their parts, time and again. As a result, they worked some of their best routines into the picture, including:
Although A Night in the Tropics is a fine romantic comedy all by itself, it has earned its' place in movie history as Abbott and Costello's first feature film — and a funny film it is, too.
I rate it 4 clowns on a 5-clown scale.
Funny movie quotes from Abbott and Costello's One Night in the Tropics: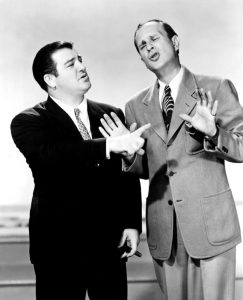 Bud Abbott: Put that out. There's no smoking in here.
Lou Costello: What makes you think I'm smokin'?
Bud Abbott: You've got a cigar in your mouth!
Lou Costello: I've got shoes on … don't mean I'm walkin'.
---
Lou Costello: He's gonna make a wonderful husband.
Bud Abbott: You don't even know what a husband is.
Lou Costello: A husband is what's left of a sweetheart after the nerve has been killed.
Trivia from One Night in the Tropics starring Bud Abbott and Lou Costello
Originally titled Caribbean Holiday
Abbott and Costello's first feature film. They were not the top-billed stars of the movie; this was just a routine Universal B-movie musical with contract players in the cast.
Abbott and Costello were big radio stars when they made this, their debut film. The audience hears their voices before they appear on screen.
William Frawley (playing the role of Roscoe) is best known from the classic TV sitcom "I Love Lucy". He played the tightfisted landlord, Fred Mertz.
Leo Carrillo (playing the role of Escobar) is remembered as Pancho in the classic 1950's TV series "THE CISCO KID."
Cast of characters
Updated April 2, 2022