The Time of their Lives (1946) starring Bud Abbott, Lou Costello, Marjorie Reynolds, Binnie Barnes, John Shelton, Gale Sondergaard
Synopsis of The Time of their Lives
In The Time of their Lives, Lou Costello is mistaken as a traitor, and his ghost is trapped in Danbury Mansion until his innocence is proven. Can Bud Abbot help?
Review of The Time of their Lives
The Time of their Lives is a different, though very funny, Abbott and Costello film. Bud and Lou aren't partners and only talk to each other in one scene. Also, there's a fair amount of slapstick in the film. But, uncharacteristically, it's Lou abusing Bud. Lou at first mistakes the present-day Bud for his ancestor and uses his ghostly state to abuse him at every opportunity.
Having said that, The Time of Their Lives is a very funny film, with lots of "ghostly shenanigans" courtesy of Lou and Marjorie Reynolds. A lot of Invisible Man-type effects occur, such as Bud getting hit on the head with a candlestick. Manipulated by the invisible Lou, of course. One of my favorite moments is where the ghosts cleverly keep a car from leaving the estate — since they're cursed to remain, they stay in the car, keeping it from leaving.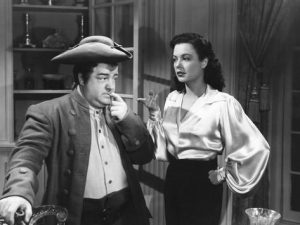 Are there any negatives to The Time of their Lives? Not many; I disliked the seance scene, but if you don't have an issue with ghosts, it shouldn't bother you too much. I enjoyed The Time of their Lives, and recommend it — I rate it 4 stars out of 5.
Cast of characters in The Time of their Lives
Horatio Prim (Lou Costello). A master tinker in the time of the Revolutionary War, in love with Danbury's maid, Nora O'Leary. He's wrongly thought a traitor, killed by mistake, and cursed to stay on the grounds of Danbury Manor until the "crack of doom" … Or until he can prove his innocence.
Cuthbert Greenway (Bud Abbott). The person who, in the Revolutionary War period, fought with Horatio over the housemaid Nora. He tricks Horatio into being locked in a trunk, leading to his eventual death.
Dr. Ralph Greenway (also Bud Abbott). A descendant of Cuthbert, who Horatio's ghost mistakes for Cuthbert, and hurts him in various slapstick ways. Not a bad fellow, who risks jail time to steal the clock that can prove Horatio and Melody's innocence.
Melody Allen (Marjorie Reynolds, The Life of Riley, Holiday Inn). Thomas Danbury's fiancee, who along with Horatio is mistakenly killed as a traitor, and cursed to stay on the estate.
Secondary characters
Updated December 7, 2021