Abbott and Costello in Buck Privates(1941), starring Bud Abbott, Lou Costello, the Andrews Sisters, Shemp Howard
Buck Privates, starring Bud Abbott and Lou Costello, is the first movie that starred the comedy duo. In many ways, it is their funniest. In a nutshell, Abbott and Costello are small-time con men who try to escape a police officer …. Only to enlist in the Army by mistake. Who turns out to be their drill instructor? None other than the police officer that they were trying to escape. The film contains some of their funniest moments. Including Lou Costello becoming hopelessly confused during a drill – it must be seen to be appreciated.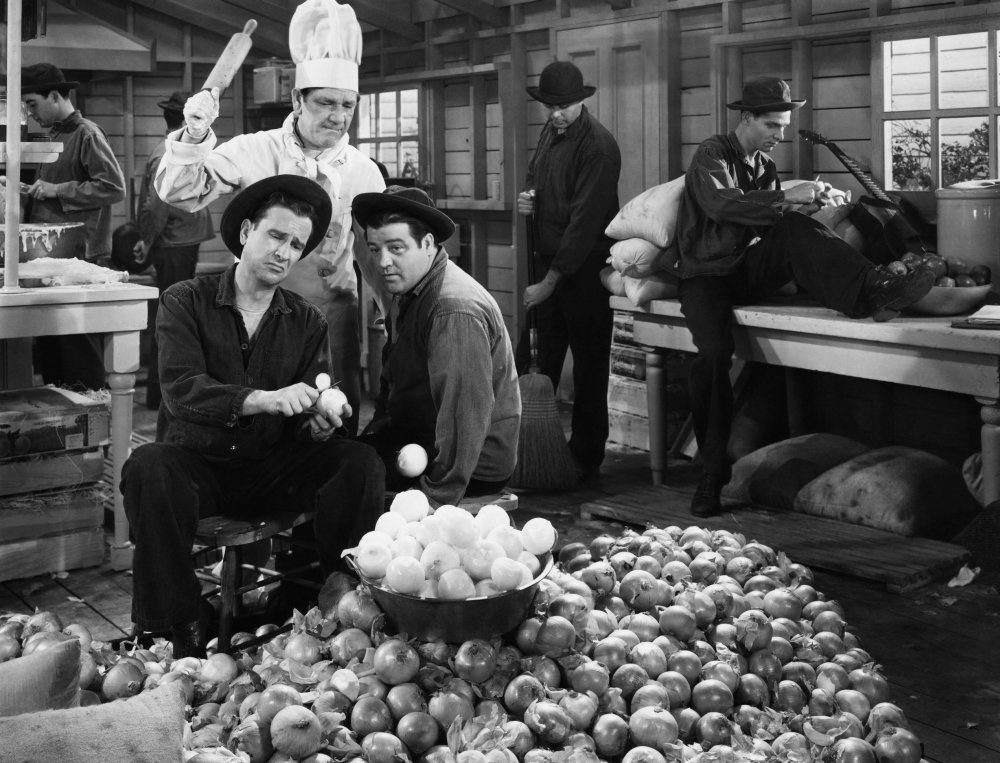 Other characters include Shemp Howard (in a pre-Three Stooges role) and the Andrews Sisters, singing "Boogie Woogie Bugle Boy" among others. A very patriotic film, based in America shortly before the U.S.A. entered World War II (1941). Some of their best routines are found here, such as the classic you're 40, she's 10, and Lou Costello explaining to Bud Abbott that 28 divided by 7 is 13 — €"a hilarious routine, that'€™s worth its'€™ weight in gold.
Editorial review of Abbott and Costello in Buck Privates (1941), starring Bud Abbott, Lou Costello, the Andrews Sisters, courtesy of Amazon.com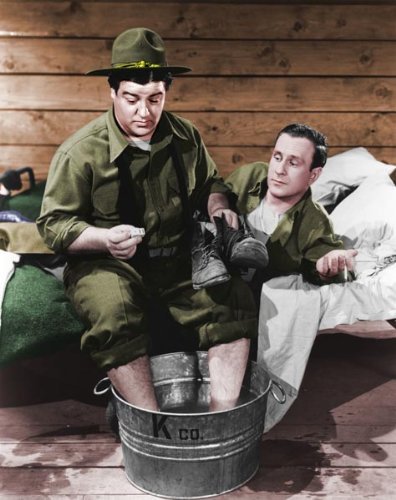 Universal Studios hit box-office gold when they drafted vaudeville comedians and radio stars Bud Abbott and Lou Costello and turned them into one of the most successful screen teams of the 1940s and 1950s. After a tryout as supporting characters in the musical One Night in the Tropics, they starred in Buck Privates as con artists who accidentally enlist while hiding out from New York street cop Nat Pendleton.
Naturally he winds up their drill sergeant and comic foil as they wreak havoc on the armed forces. It's vaudeville in fatigues, with the bare bones of a story provided by spoiled millionaire playboy Lee Bowman, his strapping All-American former chauffeur Alan Curtis, and the girl-next-door they both pursue, Jane Frazee. The lackluster subplot is directed with little verve by Arthur Lubin, and the film's energy comes completely from the snappy by-play of the comedians and Costello'€™s flustered double takes and jumpy physical comedy (including a hilarious rifle drill in which the out-of-step soldier marches to the direction of a different compass).
The Andrews Sisters sing "You're a Lucky Fellow, Mr. Smith" and "Boogie Woogie Bugle Boy," among others, and future Stooge Shemp Howard shows where the "mess" in mess hall comes from as a cook on the receiving end of Costello's KP tomfoolery. This modest comedy became a smash hit and made Abbott and Costello Universal's most valuable commodity, prompting a quick follow-up with another peacetime armed forces comedy, In the Navy .–Sean Axmaker –This text refers to the DVD edition.
Trivia about Abbott and Costello's Buck Privates:
Arthur Lubin was a contract director at Universal, on a set weekly salary. However, this film was a huge hit ($4 million gross on a $180,000 budget). And Universal gave him a $5,000 bonus.
The train whistle blows Lou Costello'€˜s catchphrase, "I'm a bad boy."
Abbott and Costello's drill routine ran only two-and-a-half minutes in the script. But it was allowed five minutes of screen time because of their ad-libbing. Much of their dialogue in the film was ad-libbed.
A sneak preview was held in late January 1941 for soldiers at Fort MacArthur, California.
During WWII, the Japanese used to show the sequence "Drill Routine" from this movie to show how stupid the American Army was.
This film took in $4,000,000, more than either Citizen Kane (1941) or How Green Was My Valley (1941)
Abbott and Costello routines in Buck Privates:
Drill Routine
Boxing match
Put the pack on his back
Turn that radio off!
Songs
Boogie Woogie Bugle Boy , Lyrics by Don Raye, Music by Hugh Prince, Performed by The Andrews Sisters
Bounce Me Brother with a Solid Four, Lyrics by Don Raye, Music by Hugh Prince, Performed by The Andrews Sisters
When Private Brown Becomes a Captain. Lyrics by Don Raye, Music by Hugh Prince, Performed by Lou Costello , Shemp Howard and the kitchen crew
You're a Lucky Fellow, Mr. Smith, Lyrics by Don Raye, Music by Hugh Prince and Sonny Burke, Performed by The Andrews Sisters
I Wish You Were Here, Lyrics by Don Raye, Music by Hugh Prince and Vic Schoen, Performed by Jane Frazee
(I'll Be with You) In Apple Blossom Time (1935). Music by Albert von Tilzer, Lyrics by Neville Fleeson, Performed by The Andrews Sisters
You're In The Army Now. Music by Isham Jones, Lyrics by Tell Taylor and Ole Olsen. Played by an army band for marching recruits, Hummed by Lou Costello