Abbott and Costello's Ride 'em Cowboy (1942) starring Bud Abbott, Lou Costello, Dick Foran, Ella Fitzgerald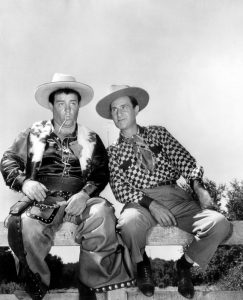 Bud Abbott and Lou Costello star as two peanut vendors at a rodeo show. Soon, they get in trouble with their boss and hide out on a railroad train. Which unexpectedly heads west with them still on it. Upon arriving, they get jobs on a dude ranch despite the fact that neither of them knows anything about cowboys, horses, or much else. The scene with Lou Costello attempting to milk a cow is a gem of comedy. Abbott and Costello follow the same formula here as in their previous films, with a romantic subplot and music, provided here by Ella Fitzgerald.
I rate it 4 stars out of 5.
Funny movie quotes from Ride 'em Cowboy
Willoughby (Lou Costello): It's all our fault. Duke and I went running to hide from the boss and I let the cow's husband out.
Duke (Bud Abbott): He means the bull.
Willoughby (Lou Costello): Bull nothin' it's a fact.
Cast of characters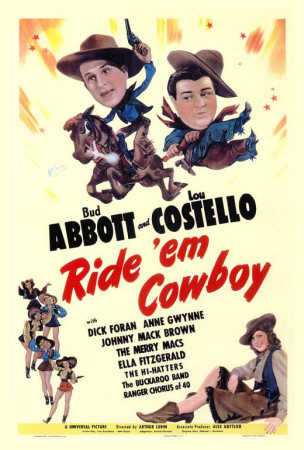 Trivia
The production was delayed in favor of another of Abbott and Costelloâs service comedies, Keep 'Em Flying (1941). These were huge box office hits for Universal.
This was the last Abbott and Costello film to be directed by Arthur Lubin. Like their previous collaborations, this became one of the biggest hits of the year.
In the train car on the way to the dude ranch, Willoughby (Lou Costello) sees Duke (Bud Abbott) and several cowboys getting ready to play cards. He asks, "What are you playing?" and Duke replies, "Poker". Willoughby says, "I've never played that game before. Is it like dice?" That's an inside joke, referring to Abbott & Costello's famous "dice" routine, which they used in their first starring film, Buck Privates.
Johnny Mack Brown's character is named "Alabam", an inside joke referring to Brown himself, who was from Dothan, Alabama.
When the dude-ranch bus pulls into the station to pick up the train passengers from the "wild west show", the signpost on the depot reads "Gower Gulch". That is an inside joke, as "Gower Gulch" was a longtime name for the area of Hollywood — centered on Gower Street — where many low-budget independent producers and studios, which specialized in shooting westerns because they were cheap to make, were headquartered.
Film debut of Ella Fitzgerald.
To add a touch of authenticity, the film was shot on location at two dude ranches, the B-Bar A and the Rancho Chihuahua.
Songs
Give Me My Saddle, Lyrics by Don Raye, Music by Gene de Paul, Performed by Dick Foran
Wake Up, Jacob, Lyrics by Don Raye, Music by Gene de Paul, Performed by The Merry Macs
Beside the Rio Tonto Shore, Lyrics by Don Raye, Music by Gene de Paul, Performed by The Merry Macs
I'll Remember April, Lyrics by Don Raye, Music by Gene de Paul, Performed by Dick Foran
Ride 'em Cowboy, Lyrics by Don Raye, Music by Gene de Paul, Performed by Dick Foran and The Merry Macs
A-Tisket, A-Tasket, by Ella Fitzgerald and Van Alexander (as Al Feldman), Performed by Ella Fitzgerald
Rockin' and Reelin', Words and Music by Don Raye and Gene de Paul, Performed by The Merry Macs and Ella Fitzgerald
Updated February 9, 2022