Abbott and Costello's comedy, Who Done It? A murder mystery set at a radio station, where Bud and Lou tangle with Nazis!
Editorial review of Abbot and Costello's Who Done It?, courtesy of Amazon.com
In this slapstick comedy thriller, Bud Abbott and Lou Costello play would-be radio writers who find themselves involved in a real murder during the recording of a "whodunit" play. Trying to solve the crime, they are suspected by the police-and targeted by the killer! A madcap chase through the radio station features a riotous encounter with a fitful drinking fountain, a mix-up in a sound recordings library, and a runaway elevator. With a strong supporting cast including Mary Wilkes as a wisecracking secretary and William Bendix as a cop who's even dumber than Lou, Who Done It? has been called "one of Abbott and Costello's best," by critic Leonard Maltin.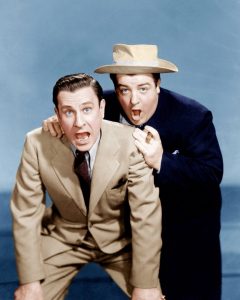 Comedy routines in Who Done It?
Limburger cheese
Two Tens for a Five (here it's Two dimes for a nickel)
Water fountain
Pick a number
Cast of characters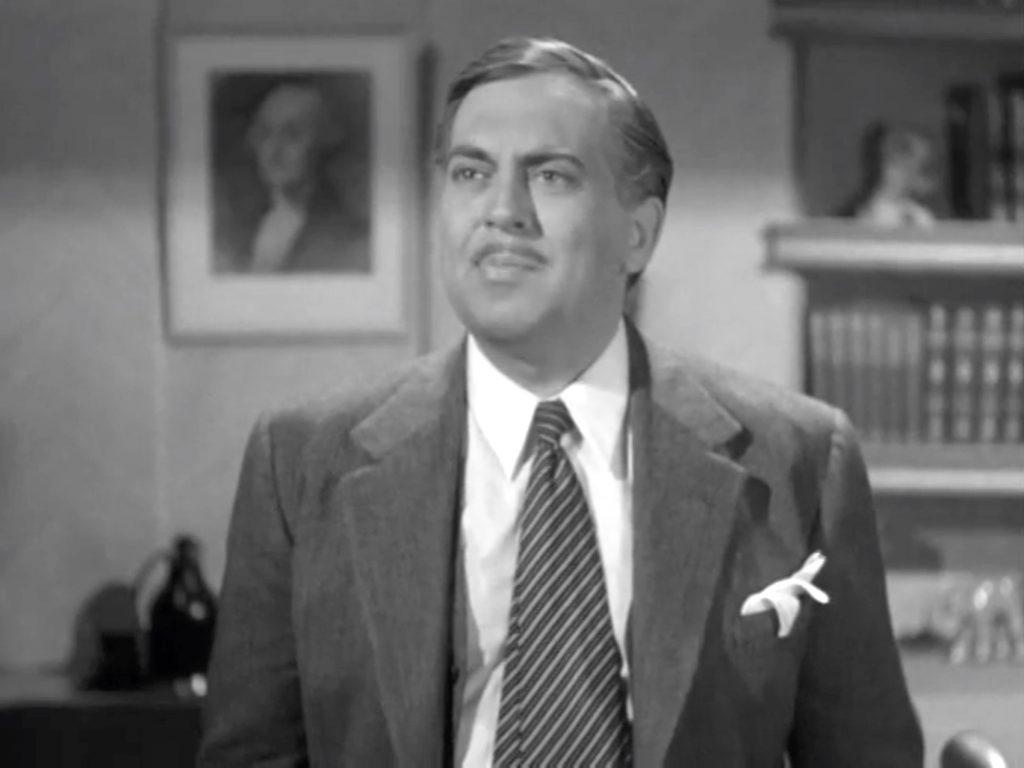 Funny movie quotes from Who Done It? starring Abbott and Costello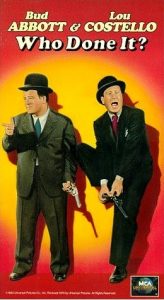 Mervin Q. Milgrim (Lou Costello): [nauseous] I gotta go back upstairs and get something …
Chick Larkin (Bud Abbott): What have you gotta get?
Mervin Q. Milgrim (Lou Costello): My stomach …
---
Col. J.R. Andrews: Mr. Turner, may I remind you that I have a contract for your services, and I intend to exercise it.
Jimmy Turner: You'll get plenty of exercise trying to find me.
---
Mervin Q. Milgrim (Lou Costello): Operator! Give me Alexander two two, two two!
Telephone operator: The line is busy!
---
Customer: What happened to my strawberry sundae?
Mervin Q. Milgrim: What's today?
Customer: Friday.
Mervin Q. Milgrim: You've got two more days to wait.
---
Mervin Q. Milgrim: I've seen better heads on malted milks.
---
Mervin Q. Milgrim: [Mervin and Chick and performing their radio play for Juliet, Mervin's holding a gun on Chick] Bang! Ow! Bang! Ow! Bang! Ow!
Juliet Collins: Wait a minute, if you're shooting at him [Chick] , then why are you yelling?
Mervin Q. Milgrim: I'm holding the gun backwards!
---
Chick Larkin: [talking about Juliet Collins] So she has a couple of buck teeth.
Mervin Q. Milgrim: I don't care how much they cost.
---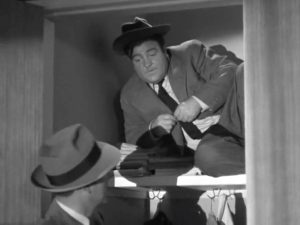 Chick Larkin: [Mervin's on top of the shelf in a closet] What are you doing up there?
Mervin Q. Milgrim: Looking for clues.
Chick Larkin: Up there?
Mervin Q. Milgrim: Ain't this the clues closet?
---
Trivia for Who Done It? starring Abbott and Costello
This was the first Bud Abbott and Lou Costello film that did not contain musical numbers. As a result, it was shortest film that they had made to date.
The "watts-volts" routine was not in the script. It was created by Bud Abbott and Lou Costello on the set.
As part of a display on telephones and communication, the Smithsonian Institute used a clip of Lou Costello trying to call in for the radio contest to demonstrate the mechanics of placing a call with an operator-run exchange.
During the scene in which Costello is "interrogating" the radio show cast, he blurts out the question, "Where were you on The Night of January 16th"? his is an obscure, throwaway reference to the famous Broadway play of the same name by Ayn Rand, the Russian born novelist and philosopher who wrote The Fountainhead and Atlas Shrugged. The Night of January 16€ was also made into a movie in 1941.
Radio actor Walter Tetley, who plays the elevator operator who perpetually gets the best of Lou Costello in this film, would go on to become the voice of "Sherman" in the "Mr. Peabody" cartoons in The Adventures of Rocky & Bullwinkle.
Radio actors
For a murder-mystery set in a radio studio, the film certainly had its share of personalities who themselves were radio actors. Abbott and Costello had been introduced to the nation on the Kate Smith Hour, and (at the time Who Done It? was released) had their own highly successful radio show. William Bendix (Brannigan) was a bit player in radio at the time, but was to soon become famous for his radio show The Life of Riley. Walter Tetly (the busboy) was an accomplished child radio actor, playing various roles on different shows including The Great Gildersleeve and The Phil Harris/Alice Faye Show. Finally, William Gargan (Detective Moran) starred in his own radio show, Barry Craig, Confidential Investigator.