Hit the Ice (1943) starring Bud Abbott, Lou Costello, Ginny Sims, Sheldon Leonard
Flash Fulton (Bud Abbott) and Weejie McCoy (Lou Costello) take pictures of a bank robbery. They're lured to the mountain resort hideout of the robbers, accompanied by Dr. Bill Elliott (Patric Knowles) and Peggy Osborn (Elyse Knox). They meet old friend Johnny Long and his band and singer Marcia Manning (Ginny Simms). Dr. Elliott and Peggy are being held in a remote cabin by the robbers…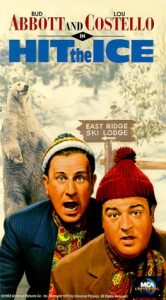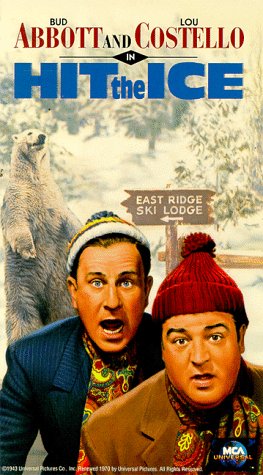 In Hit the Ice, Bud Abbott and Lou Costello are sidewalk photographers who get mixed up with bank robbers and wind up at a ski resort. As you can imagine, various hijinks ensue. This film has the trademark Abbott and Costello verbal humor, and plenty of visual comedy, too. Lou's mishaps on a skating rink are amusing, and a frantic chase finale has Lou turning into a giant snowball! The supporting cast features Sheldon Leonard as the criminal mastermind, and fans of '40s music will enjoy vocalist Ginny Simms.
I rate it 4 clowns out of 5.
Editorial review of Hit the Ice (1943) starring Abbott and Costello, courtesy of Amazon.com
Bud Abbott and Lou Costello get mixed up with gangsters, gun molls, and gumshoes in one of their funniest and zaniest comedies. As would-be newspaper photographers, the boys are mistakenly hired as bank robbers by hospitalized underworld gangster Sheldon Leonard. Only after the "job" is finished do Bud and Lou realize what they've done, so it's off to the ice skating mecca of Sun Valley to track down Leonard and his gang before the police put the boys permanently on ice. Produced at the zenith of the comic duo's movie career, the unqualified box office hit features songstress Ginny Simms and Johnny Long and his orchestra along with the slapstick chases and burlesque routines that made the team famous.
Funny movie quotes from Abbott and Costello's Hit the Ice
Weejie "Tubby" McCoy (Lou Costello): Hey! Where's the fire?
Marcia Manning: In your eyes.
---
Weejie "Tubby" McCoy (Lou Costello): [moaning] Oh I was shot, somebody stabbed me.
---
Flash Fulton (Bud Abbott): This bank's been stuck up.
Weejie "Tubby" McCoy (Lou Costello): What've they got to be stuck up for? They're no better than any other bank.
---
Nurse #1: You've just had a baby.
Weejie "Tubby" McCoy (Lou Costello): Oh a baby … is it a boy or girl?
Nurse #1: Boy.
Weejie "Tubby" McCoy (Lou Costello): Oh … does he look like me?
Nurse #1: Exactly like you.
Weejie "Tubby" McCoy (Lou Costello): Oh a baby … A BABY!
[jumps up from the gurney, revealing himself to be a man and runs away, the nurse screams and faints]
Flash Fulton (Bud Abbott): Where've you been?
Weejie "Tubby" McCoy (Lou Costello): Having a baby.
---
Weejie "Tubby" McCoy (Lou Costello): [trying to get the dog sled team to run] Oatmeal, oatmeal! Cornmeal! … Mush!
---
Weejie "Tubby" McCoy (Lou Costello): [trying to ice skate] Left foot, right foot, left foot, everybody's doing it.
---
[Bud and Lou are trying to sneak onto a train without tickets, when Bud notices a band getting onboard by announcing the instrument they play and sneaks into line behind the two bass fiddles]
First Band Member: Bass Fiddle.
Second Band Member: Second Bass.
Flash Fulton (Bud Abbott): Third Bass.
Weejie "Tubby" McCoy (Lou Costello): Shortstop.
Conductor: [marking off the list] Shortstop… [realizes] Shortstop! Hey, you, 'shortstop'!
---
Cast of characters
Bud Abbott … Flash Fulton
Lou Costello … Weejie McCoy
Ginny Simms (You'll Find Out) … Marcia Manning
Patric Knowles (The Wolf Man) … Dr. Bill Elliot (Credits) / Dr. William 'Bill' Burns (in Film)
Elyse Knox (The Mummy's Tomb) … Peggy Osborne
Joe Sawyer (The Petrified Forest, Gilda) … Buster
Marc Lawrence (The Asphalt Jungle) … Phil
Sheldon Leonard (It's a Wonderful Life, To Have and Have Not) … 'Silky' Fellowsby
Johnny Long and His Orchestra … Johnny Long Orchestra
Four Teens … Speciality Act
Trivia for Abbott and Costello's Hit the Ice
The film was started by director Erle C. Kenton. However, he and Lou Costello clashed on several occasions, and Kenton was fired and replaced by Charles Lamont.
Lou Costello always suspected that Universal wasn't giving him and Bud Abbott the agreed-upon share of the profits the studio made from their films (a suspicion later proven, as a result of legal action they took against Universal, to be true). Therefore, he developed a habit of picking out furniture he liked from the sets of their films and taking it home, considering it payback for what he believed to be Universal's cheating. One day director Charles Lamont showed up on the set to shoot a scene at the ice skating rink only to discover that all the wrought-iron patio furniture that had been there the previous day had disappeared. Costello denied any knowledge of it, and Lamont said he would shoot no more scenes until the furniture was returned. A compromise was finally reached whereby Costello would bring back the furniture, the scene would be shot, and then he would be allowed to bring all of the furniture back home.
After completing production, Lou Costello was stricken with rheumatic fever. This would be the last new Abbott and Costello film for more than a year.
This film was broadcast on cable network AMC on the morning of Sept. 11, 2001 about 2 hours before the terrorist attacks.
---