Bud Abbott and Lou Costello Meet Frankenstein (1948), starring Bud Abbott, Lou Costello, Bela Lugosi, Lon Chaney Jr., Glenn Strange, Lenore Aubert, Jane Randolph
I admit to being a fan of both Abbott and Costello, as well as the Universal monster movies of the times. Thankfully, in this movie, both sides are treated respectfully and appropriately –the monsters are frightening, and act true to character, and are not caricatures used for a quick laugh. In the same way, Bud Abbott and Lou Costello play their normal, everyman characters, with Bud being the straight man, who is confused by his bumbling pal Lou's success with two different beautiful women — neither of whom is what they seem to be.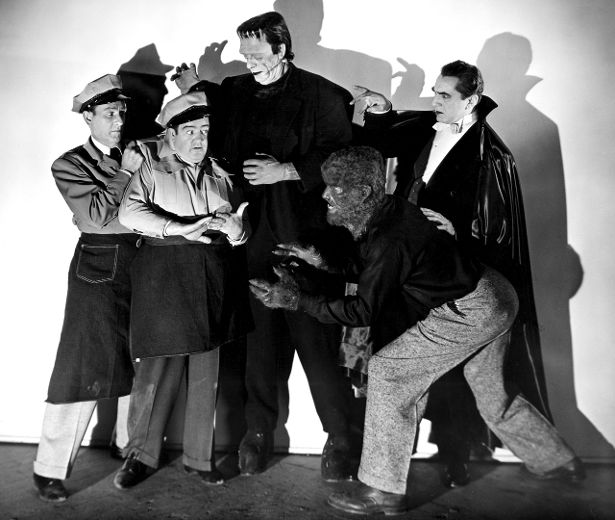 The basic story has Chick (Bud Abbott) and Wilbur (Lou Costello) working as shipping clerks, where they receive some items for a House of Horrors owned by the very unfriendly Mr. McDougal (Frank Ferguson) — who wants them delivered that night. After a visit from Lou's girlfriend, the lovely Dr. Sandra Mornay (Lenore Aubert), who seems to be very attracted to Wilbur. Later at the House of Horrors, they deliver the bodies of Count Dracula (Bela Lugosi) and Frankenstein's monster (Glenn Strange), leading to some laugh out loud comedy as Wilbur is quickly scared out of his wits with some comedy gems, such as the sliding candles, Dracula's coffin opening, etc. — every time when Chick is out of the room, of course. Eventually, the real Dracula and Frankenstein take their leave, leaving McDougal to have our heroes arrested for the theft of his valuable exhibits.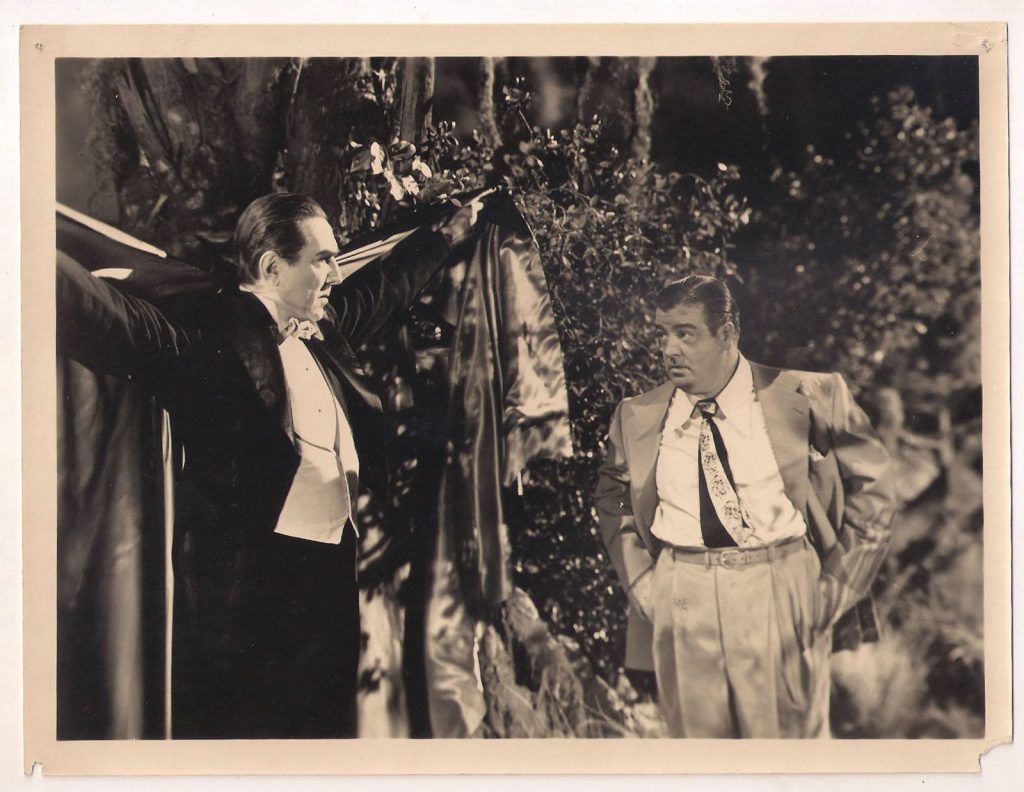 The next day, they are bailed out by a newcomer, Joan Raymond (Jane Randolph) an insurance investigator who's looking for the lost exhibits — and pretends to fall in love with Wilbur, to Chick's consternation. Soon after, they are contacted by Larry Talbot (Lon Chaney Jr.), the reluctant Wolf Man who's trying to prevent Dracula's evil scheme. And they're all invited to a costume party, hosted by Dracula (in disguise), who's secretly Sandra's employer — and who turns her into a vampire as well.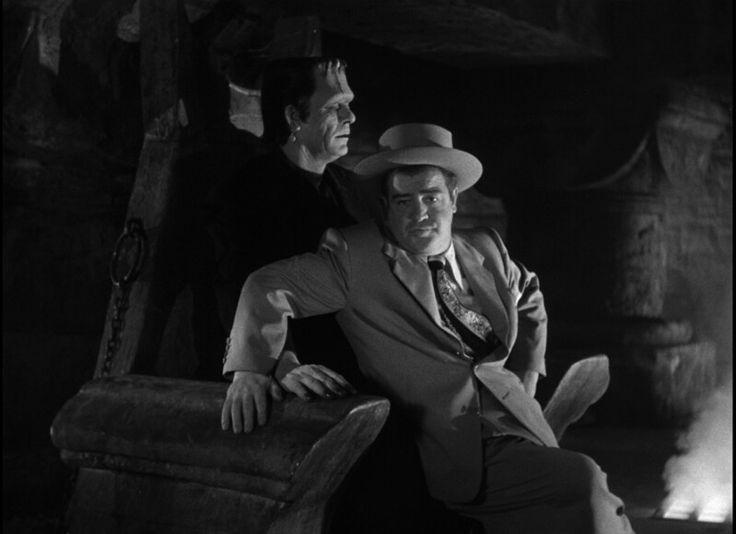 From this point on, it's a full-on monster mash, with hidden passages, threatening monsters, and comedic attempts to escape mixed well, into one of the funniest comedies of all time. Highly recommended viewing.
Editorial review of Bud Abbott and Lou Costello Meet Frankenstein (1948), starring Bud Abbott, Lou Costello, Bela Lugosi, Lon Chaney Jr, courtesy of Amazon.com
Universal Pictures made a great deal of money from its monster movies in the 1930s. In the early '40s, the burlesque team of Bud Abbott and Lou Costello kept the studio's coffers full. When the two franchises were combined in 1948, the result was another windfall–despite the apparent oil-and-water mix of subject matter.Abbott and Costello Meet Frankenstein was the first of these summit meetings, although the title is a misnomer. Actually, Bud and Lou bump into most of the Universal heavy-hitters, including Count Dracula (played by Bela Lugosi himself), the Wolfman (Lon Chaney Jr.), and the Frankenstein monster (veteran monster Glenn Strange). There's even a token appearance by the Invisible Man, whose disembodied voice is recognizable as that of Vincent Price. Sure enough, the film is funny, especially since it gives the portly Costello multiple opportunities to do his wide-eyed, quivering scaredy-cat routine. Audiences ate it up, and in future installments Bud and Lou would run into Boris Karloff, Dr. Jekyll and Mr. Hyde, the Invisible Man, and the Mummy. But the first was the best. —Robert Horton
---
Trivia for Bud Abbott and Lou Costello Meet Frankenstein
Originally titled "The Brain of Frankenstein".
Boris Karloff was never approached to play the monster, but as a favor to Universal, he agreed to do publicity work for this film as long as he didn't have to see the film. In several photos taken by Universal's publicity department, he is seen standing in line purchasing a ticket at a theater in New York City where the film is playing, and in other stills, he is shown admiring the poster art for the film outside the theater lobby. Karloff later starred with Abbott & Costello in Abbott and Costello Meet the Killer, Boris Karloff as well as Abbott and Costello Meet Dr. Jekyll and Mr. Hyde.
The animation sequences of Dracula-as-a-bat and Dracula-changing-from-bat-to-Dracula were done by Universal-International's animator, Walter Lantz (of Woody Woodpecker fame).
This film was such a hit that it was reportedly Universal-International's second highest grossing film of the year.
Although he would play similar vampires in other films since Dracula, this would be only the second, and last, time that Bela Lugosi would play Dracula in a feature film.
This was the final Universal film to feature Frankenstein's Monster, Dracula and the Wolfman, until Van Helsing.
This film has been the subject of controversy for decades over whether it should be considered part of the official Universal Horror series (thus making it a sequel to House of Dracula) or a non-canon, standalone film.
Glenn Strange speaks for the first time as The Monster. This film marks the first time since The Ghost of Frankenstein that the character has spoken, though it does not explain how The Monster has regained his voice.
Lou Costello did not want to film the movie, declaring, "No way I'll do that crap. My little girl could write something better than this." A $50,000 advance in salary and the signing of director Charles Barton, the team's good friend and the man whom some call their best director, convinced him otherwise.
Marks the first time Universal-International stopped using the effective but lengthy application time of make-up artist Jack P. Pierce for the monster make-up, using Bud Westmore and Jack Kevan's more cost-effective rubber appliances. The rubber head appliance that Glenn Strange wore to play the Frankenstein monster fitted him so tightly that, after a few hours under the hot lights, he could shake his head and hear the sweat rattling around inside it.
The scene in which Wilbur (Lou Costello) is unknowingly sitting on the Frankenstein Monster's (Glenn Strange) lap required multiple takes. The scene allowed Costello to improvise wildly, which caused Strange to constantly break up laughing during the takes.
Jane Randolph replaced Ella Raines, who backed out at the last minute.
Three actors in this film had previously played the Frankenstein Monster. Aside from Glenn Strange who actually plays the role again, both Bela Lugosi and Lon Chaney Jr. had experience under the flat top as well. Boris Karloff was the original Monster.
Technically, nobody in the film ever meets Frankenstein, although it had long since been accepted that the name of the monster was "Frankenstein's Monster", or for simplicity sake "Frankenstein".
The studio hired two additional comedians to add laughs between takes on the set.
In 2000, recognized by the American Film Institute's 100 Years … 100 Laughs at #56. In September 2007, Readers Digest selected the film as one of the top 100 funniest films of all time.
Although the characters had previously appeared in House of Frankenstein and House of Dracula, this is the only Universal film where Larry Talbot and Dracula share both a scene and dialog.
Mr. Peabody and the Mermaid was shooting near a set where Bud Abbott Lou Costello Meet Frankenstein was filming. Tourists were shocked to see Glenn Strange's Frankenstein Monster having lunch with Ann Blyth in her fishtail costume. Both Strange and Lon Chaney Jr. in his Wolfman make-up were invited to the Mr. Peabody wrap party, where they hammed it up in make-up.
Originally the Mummy was to be included in the cast of monsters, but that idea was eventually dropped.