Bud Abbott and Lou Costello Meet Frankenstein (1948), starring Bud Abbott, Lou Costello, Bela Lugosi, Lon Chaney Jr., Glenn Strange, Lenore Aubert, Jane Randolph
I admit to being a fan of both Abbott and Costello, as well as the Universal monster movies of the times. Thankfully, in this movie, both sides are treated respectfully and appropriately. The monsters are frightening, and act true to character, and are not caricatures used for a quick laugh. In the same way, Bud Abbott and Lou Costello play their normal, everyman characters. With Bud being the straight man, who is confused by his bumbling pal Lou's success with two different beautiful women. Neither of whom is what they seem to be.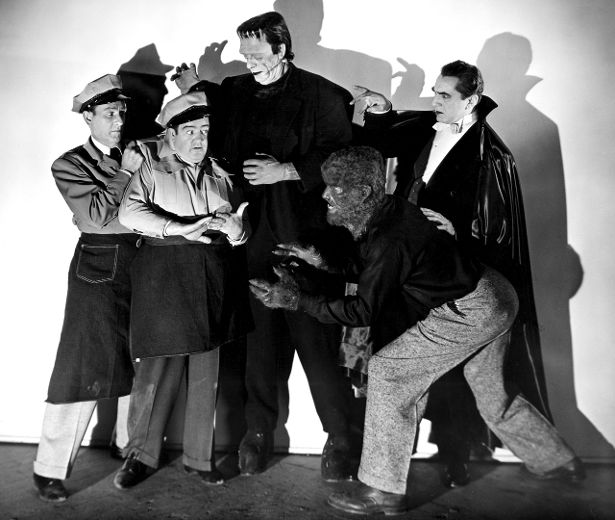 The basic story has Chick (Bud Abbott) and Wilbur (Lou Costello) working as shipping clerks. They receive some items for a House of Horrors owned by the very unfriendly Mr.  McDougal (Frank Ferguson) — who wants them delivered that night. After a visit from Lou's girlfriend, the lovely Dr.  Sandra Mornay (Lenore Aubert). She is very attracted to Wilbur, which Chick can't understand.
Later at the House of Horrors, they deliver the bodies of Count Dracula (Bela Lugosi) and Frankenstein's monster (Glenn Strange). This leads to some laugh out loud comedy. Wilbur is quickly scared out of his wits with some comedy gems. Such as the sliding candles, Dracula's coffin opening, etc. Every time when Chick is out of the room, of course. Eventually, the real Dracula and Frankenstein take their leave. This leaves McDougal to have our heroes arrested for the theft of his valuable exhibits.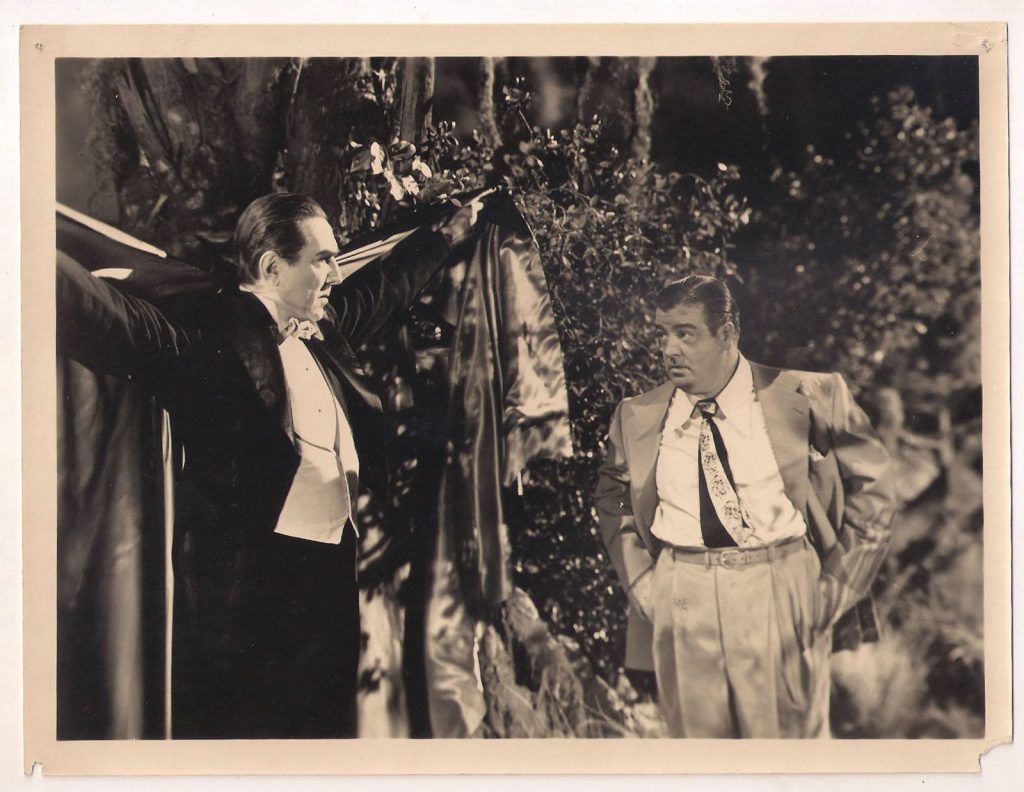 Enter the Wolf Man
The next day, Joan Raymond (Jane Randolph) bails them out. She's an insurance investigator who's looking for the lost exhibits. And she pretends to fall in love with Wilbur, to Chick's consternation. Soon after, Larry Talbot (Lon Chaney Jr.), the reluctant Wolf Man, contacts them. He's trying to prevent Dracula's evil scheme. And they're all invited to a costume party, hosted by Dracula (in disguise. He's secretly Sandra's employer — and he turns her into a vampire as well.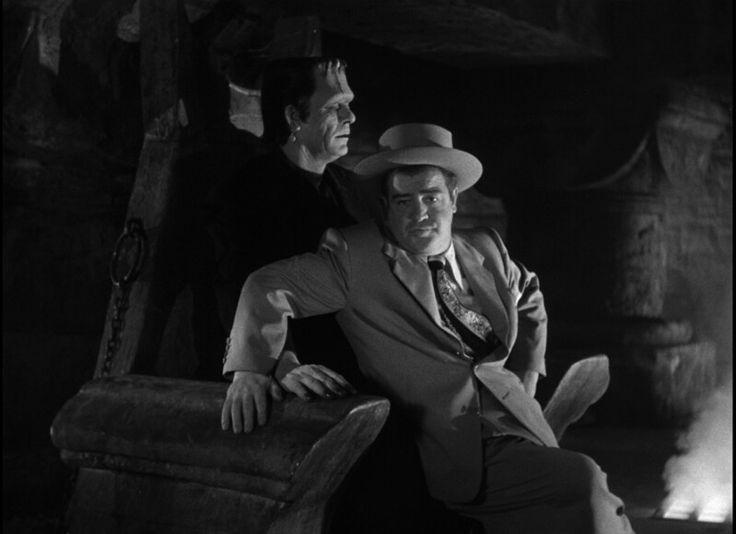 From this point on, it's a full-on monster mash, with hidden passages, threatening monsters, and comedic attempts to escape mixed well, into one of the funniest comedies of all time. Highly recommended viewing.
---
Trivia for Bud Abbott and Lou Costello Meet Frankenstein
Originally titled "The Brain of Frankenstein".
The animation sequences of Dracula-as-a-bat and Dracula-changing-from-bat-to-Dracula were done by Universal-International's animator, Walter Lantz (of Woody Woodpecker fame).
This film was such a hit that it was reportedly Universal-International's second highest grossing film of the year.
Although he would play similar vampires in other films since Dracula, this would be only the second, and last, time that Bela Lugosi would play Dracula in a feature film.
This was the final Universal film to feature Frankenstein's Monster, Dracula and the Wolfman, until  Van Helsing.
Lou Costello did not want to film the movie, declaring, "No way I'll do that crap. My little girl could write something better than this." A $50,000 advance in salary and the signing of director Charles Barton, the team's good friend and the man whom some call their best director, convinced him otherwise.
The scene in which Wilbur (Lou Costello) is unknowingly sitting on the Frankenstein Monster's (Glenn Strange) lap required multiple takes. The scene allowed Costello to improvise wildly, which caused Strange to constantly break up laughing during the takes.
Three actors in this film had previously played the Frankenstein Monster. Aside from Glenn Strange who actually plays the role again, both Bela Lugosi and Lon Chaney Jr. had experience under the flat top as well. Boris Karloff was the original Monster.
The studio hired two additional comedians to add laughs between takes on the set.
In 2000, recognized by the  American Film Institute's 100 Years … 100 Laughs  at #56. In September 2007,  Readers Digest selected the film as one of the top 100 funniest films of all time.
Updated January 30, 2022