In the Navy (1941) starring Bud Abbott, Lou Costello, Dick Powell, the Andrews Sisters, Claire Dodd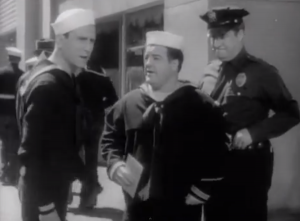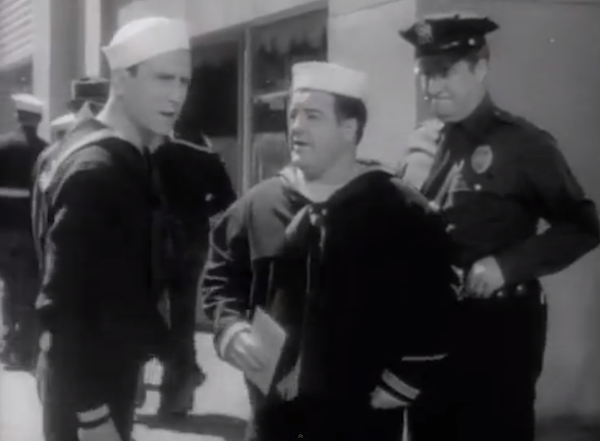 Bud Abbott and Lou Costello's follow up after the amazing success of Buck Privates was In the Navy. Which actually did better than Buck Privates. Like their previous film, Shemp Howard and the Andrews Sisters provide a comic foil and musical interludes, respectively. In a nutshell, Abbott and Costello join the Navy, get involved in a romantic subplot with Dick Powell, and do some of their most famous routines. These include a version of the con artist shell game using lemons, and Lou demonstrating his clownish math skills by trying to prove that 28 divided by 7 equals 13 — €"this bit alone is worth the price of admission.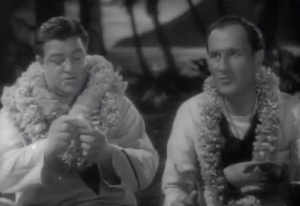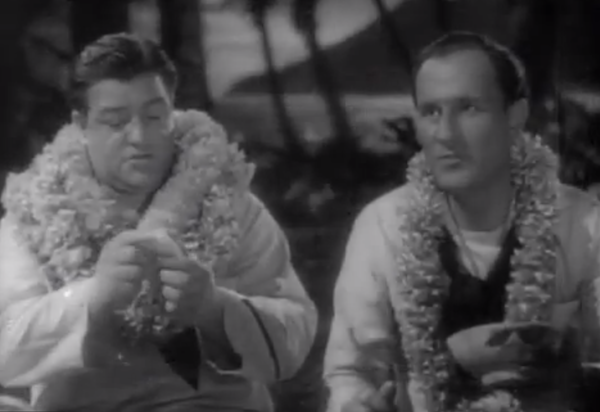 Another classic clown routine that they include here is "Busy Bee," (known here as "I'll take the water"). Lou gets "initiated" into a group on board ship — and ends up getting soaked. He, in turn, is egged on by Shemp Howard to play the same prank on Bud. And, after some great clowning by Bud, Lou again gets soaked!
I rate it 4 stars out of 5.
Editorial Reviews of Abbott and Costello's In the Navy, courtesy Amazon.com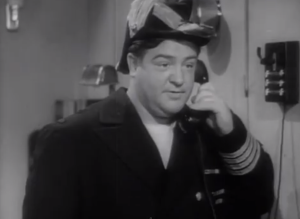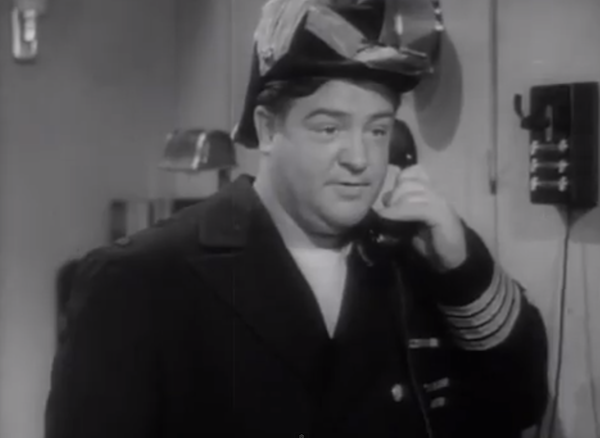 After the huge success of Buck Privates (cleverly referenced in a spoofing credits sequence), Abbott and Costello traded army green for navy blue to play landlocked gobs sent to sea after six years in the service. The actual story belongs to Dick Powell, who plays a radio crooner who has ditched fame and fawning fans for the sailor's life, while an ambitious female reporter (Claire Dodd) shadows the singer and stows aboard his battleship to expose his secret. Meanwhile Bud Abbott continues to con the ever-gullible Lou Costello, and Costello woos Patty from the Andrews Sisters.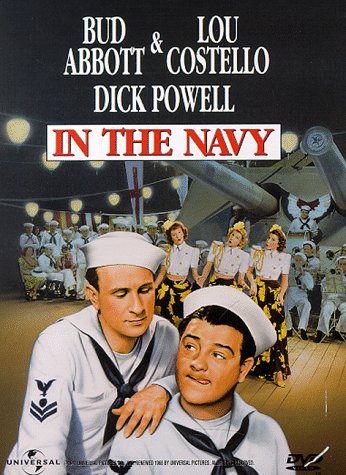 Director Arthur Lubin overcomes bargain-basement production values (rear projection footage, toy boat special effects) with the snappy repartee and energetic by-play of his stars. Skit highlights include a typically crooked Bud Abbott shell game, a hysterical series of spit-gags (in which the boys keep cracking up on camera), Costello's mathematical proof that 7 times 13 equals 28, and the climactic toy boat fantasy of naval maneuvers gone mad, courtesy of Captain Costello. The Andrews Sisters sing four songs (including "Gimme Some Skin"), Dick Powell sings two, and the Condos brothers perform a delightful dance specialty act. The boys would once again overcome Lubin's lackluster direction in their next release, Hold That Ghost , which was actually shot before this film. —Sean Axmaker –This text refers to the DVD edition.
Funny movie quotes from In the Navy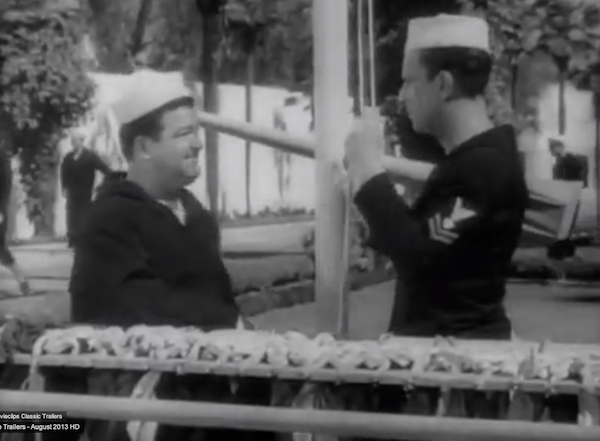 Smokey Adams (Bud Abbott): Did you ever go to school, stupid?
Seaman Pomeroy Watson (Lou Costello): Yeah, and I come out the same way.
Trivia for In the Navy
When the picture was sent to the U.S. Navy for approval, the Navy refused to have its name associated with it. That's because of the sequence at the end when Watson takes over a ship and does some decidedly un-military maneuvers with it. The producers came up with the idea of having Watson accidentally taking a sleeping potion and dreaming the entire sequence. When this scene was shot and edited in, the Navy lent its backing to the picture.
During the "I'll Take the Water" routine, the sailors fill their mouths with water in order to spray Lou Costello. Lou actually cracked up and spit his mouthful of water onto the floor. But the take was so funny it was kept in the film.
This movie was actually filmed after Hold That Ghost. But they released it first because the public wanted to see some "service pictures". After "In the Navy" was released, Universal revamped "Hold That Ghost" to add a romantic subplot and some musical numbers for the Andrews Sisters and Ted Lewis's band.
The group gets assigned to the USS Alabama and sets sail for Pearl Harbor, HI from San Diego, CA. With the movie being released on 30 May 1941, the real USS Alabama (BB-60) was commissioned on 16 Aug 1942 and earned nine battle stars during her service in World War II.
About ten minutes into the movie, Lou Costello gets a ticket for jaywalking. After the cop gives him the ticket, he and Bud Abbott turn around to go back to the base. They pass a baby carriage in front of a store window with a very young girl in it. Lou stops and says, "Hey, Smokey, look at the cute kid". That "cute kid" is Costello's daughter, Carole Costello.
Songs
You're a Lucky Fellow, Mr. Smith (1941). Written by Don Raye, Hugh Prince, and Sonny Burke. Played during the opening credits, Later sung a cappella by Lou Costello.
Anchors Aweigh (1906). Written by Charles A. Zimmerman, Lyrics by Alfred Hart Miles and R. Lovell. Played during the opening and end credits
Starlight, Starbright (1941). Lyrics by Don Raye, Music by Gene de Paul. Sung by Dick Powell at his radio broadcast. Reprised by Dick Powell and The Andrews Sisters at the end.
We're Off to See the World (1941). Lyrics by Don Raye, Music by Gene de Paul. Sung by The Andrews Sisters and the sailors.
Gimme Some Skin, My Friend (1941). Lyrics by Don Raye, Music by Gene de Paul. Sung by The Andrews Sisters at the dance hall.
A Sailor's Life for Me (1941). Lyrics by Don Raye, Music by Gene de Paul. Sung by Dick Powell, Dick Fora, Shemp Howard, Lou Costello and the sailors aboard ship.
We're in the Navy (1941). Lyrics by Don Raye, Music by Gene de Paul. Sung by Dick Powell and sailors aboard ship, Reprised by The Andrews Sisters at the end.
The Oceana Roll (1911). Music by Lucien Denni, Lyrics by Roger Lewis. Played aboard ship during the "Sons of Neptune" sequence.
Hula-Ba-Luau (1941). Lyrics by Don Raye, Music by Gene de Paul. Played during the Hawaiian luau. Sung by The Andrews Sisters and the chorus of hula dancers.