Abbott and Costello's In Society (1943), starring Bud Abbott, Lou Costello – DVD review


Bud Abbott and Lou Costello play the part of inept plumbers, who are hired to repair a leaky faucet at a mansion, shortly before a costume ball. After a hilarious sequence destroying the bathroom through their incompetence, Abbott and Costello are (mistakenly) invited to a society weekend, where a villain tries to enlist their help in stealing a valuable painting, "The Plunger." This leads into a comedic chase scene at the end, where all gets resolved.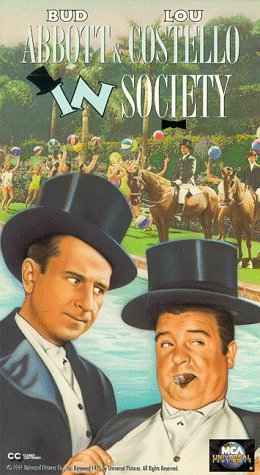 One of their finest movies, with the destruction of the bathroom being one of the funniest moments on film. It also features Abbott and Costello's famous "Bagel Street" routine, also known as "Susquehannah Hat Company", where Lou is trying to deliver some hats – but everyone he meets beats him up and ruins one of his hats – a truly hilarious routine.
Comedy bits
Plumber Lou picks up a water faucet off the table, turns the spigot – and soaks Bud!
Blow the horn!
The extended scene where the inept Lou destroys the mansion bathroom, while the lazy Bud simply sits and reads. As they're trying to not wake their sleeping customer!
Bagel Street!
All of Arthur Treacher's interactions with Lou – literally.
The fox hunt – where the fox finds Lou.
The final madcap chase to recover the stolen painting. In a firetruck, with Lou hanging on to the firetruck ladder for dear life as it swings uncontrollably!
Cast of characters
Eddie Harrington (Bud Abbott). The lazy partner in the plumbing business, who's fairly abusive to Lou.
Albert Mansfield (Lou Costello). The inept "apprentice" plumber, who causes (and solves) much of the mayhem.
Elsie Hemmerdingle (Marion Hutton, Love Happy). The lovely taxi driver that Lou's in love with since second grade. She's a talented singer, and becomes the love interest of:
Peter Evans (Kirby Grant, Gunman's Code). The handsome, rich young man who meets Elsie at the masquerade party. He's costumed as a taxi driver, and wrong assumes that Elsie's also a rich person in costume. He soon begins wooing her.
Gloria (Ann Gillis, The Time of Their Lives). Peter's would-be girlfriend, clearly jealous of Elsie.
Pipps (Arthur Treacher, Mary Poppins). The strait laced butler who waits upon Abbott and Costello. Each interaction with Lou is hilarious!
Mr. Van Cleve (Thurston Hall, You Can't Cheat an Honest Man).  The unfortunate man who comes home from a business trip where he hasn't slept for three days.  He sneaks upstairs, while his wife is holding a masquerade party.  And a dripping faucet leads him to make the mistake of hiring Abbott and Costello to fix it!
Songs
My Dreams Are Getting Better All The Time, Music by Vic Mizzy, Lyrics by Mann Curtis, Sung by Marion Hutton
What a Change in the Weather, Written by Kim Gannon & Walter Kent, Sung by Kirby Gran
No Bout Adout It, Music by Vic Mizzy, Lyrics by Mann Curtis, Sung by Marion Hutton accompanied by Will Osborne and his orchestra
Rehearsin, Written by Bobby Worth, Stanley Cowan, Sung by Ann Gillis and The Three (Fontane) Sisters, accompanied by Will Osborne and his orchestra.
Trivia about Abbott and Costello's In Society:
Introduced here by Marion Hutton, the song "My Dreams are Getting Better All the Time" became one of the top hits of 1944 when recorded by Doris Day with The Les Brown Orchestra.
Abbott and Costello were engaged in an acrimonious contract dispute with Universal during the making of this film, and as a result they refused to do re-shoots and every day, at exactly 4:00 p.m., whether they were in the middle of a scene or in the middle of a line, would immediately cease working and go home.
This was the first Abbott and Costello feature to go into production in more than a year, following Lou Costello's recovery from rheumatic fever.
This was the first Abbott and Costello film to be directed by Jean Yarbrough.
Universal was so anxious to get a new Abbott and Costello film into theaters that they sped up the production by bringing in a second director, Erle C. Kenton (who directed at least two production numbers, uncredited) and created the climatic chase sequence using footage from Never Give a Sucker an Even Break (1941). The rushed production schedule made this the most expensive Abbott and Costello film up to that time.