Africa Screams  (1949) starring Bud Abbott, Lou Costello, Hillary Brooke, Joe Besser, Shemp Howard

Abbott and Costello's movie, Africa Screams, is at best a mixed bag.  The basic plot has Bud Abbott and Lou Costello, working as book sellers. They connive their way onto a trip to Africa, where Hillary Brooke is looking for diamonds …. And is willing to sell Lou to a hungry witchdoctor!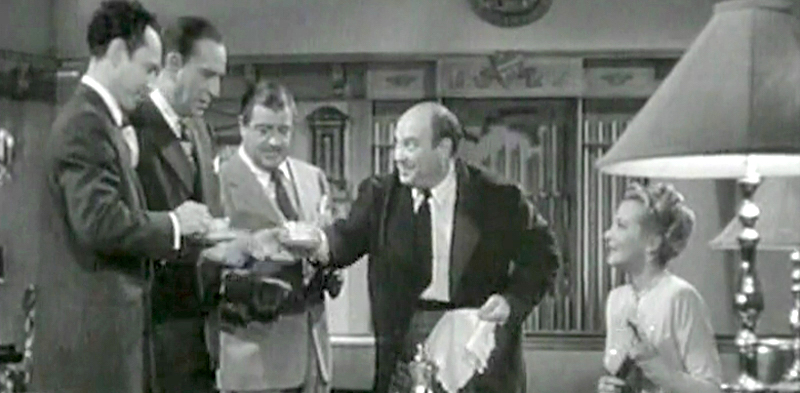 The good news is, there are lots of familiar cast members. Such as Hillary Brooke (regular on their TV series, as well as Abbott and Costello Meet Captain Kidd), Joe Besser ("Stinky" from their TV series, as well as one of the Three Stooges), Shemp Howard (of the Three Stooges, as well as Buck Privates  and Hold That Ghost). Also Frank Buck and Clyde Beatty, as well as boxers Max and Buddy Baer.
The bad news is, both Bud and Lou act totally out of character at different times.  Bud actively tries to sell his buddy Lou to the cannibalistic witch doctor for a meal.  Bud often tries to fleece Lou in other movies, but there's a bond of friendship between them. That's missing in this film.  Likewise, Lou tries to put on airs and impersonate famous big game hunter Frank Buck … In front of Frank Buck. And later does the same routine in front of Clyde Beatty.  It's totally out of character for Lou — although it would have worked for Bud.
There are individual moments and scenes that are funny, but on the whole the film falls flat.
Product Description
Africa Screams looks stunning in this new 4K restoration by 3-D Film Archive from original 35mm nitrate film elements!
During the 1940s, the comedy team of Bud Abbott and Lou Costello were among Universal's top moneymakers, and, by the end of the decade, were allowed to make one independent film per year. Hot off the success of Abbott and Costello Meet Frankenstein, Bud and Lou teamed up with independent producer Edward Nassour to release Africa Screams-a hilarious jungle romp where the boys hightail it to the dark continent and encounter wild beasts, dangerous natives, and… an affectionate gorilla!
Department store clerks Buzz Johnson and Stanley Livington (Bud and Lou) are hired by treasure hunter Diana Emerson (Hillary Brooke, The Abbott and Costello Show) for an African expedition when it is believed Stanley has memorized a map that will lead her to a rare orangutan. It's all a cover, of course, as Diana is really after a secret trove of diamonds and is counting on Stanley's memory to guide her to the treasure.
Charles Barton directs Africa Screams which features an array of supporting players: real-life big-game hunter Frank "Bring 'em back alive" Buck, real-life circus owner/animal trainer Clyde Beatty, Shemp Howard, Joe Besser, as well as heavyweight boxing brothers Buddy and Max Baer.
---
Trivia for Africa Screams
There is a scene where  Bud Abbott  and  Lou Costello  are talking in their tent and  Joe Besser  dashes into the tent, grabs a glass of water and dashes out again. He repeats this several times until Abbott stops him and asks why he's so thirsty. Besser replies that he's not thirsty, it's that his tent is on fire. That was based on an incident in Lou Costello's childhood. He accidentally set some clothes in his bedroom on fire. His father was in the living room, which was between the kitchen and Lou's bedroom. Lou, not wanting to let his father know that he had set his room on fire, dashed back and forth between the kitchen and his bedroom with glasses of water. Until his father finally asked what was going on, and Costello was forced to tell what he had done.
Features the only on-screen pairing of  Joe Besser  and  Shemp Howard. They were respectively considered the 4th and 5th members of  The Three Stooges.
The comment by Boots (Buddy Baer) to Grappler (Max Baer), "I'll hit you harder than Louis ever did". It's a reference to boxer  Joe Louis  who battled both Baers in the 1930s.
The gorilla was originally meant to be a female simian pursuing Lou Costello. However, the Breen Office censors that enforced the Production Code in Hollywood demanded the gorilla's gender be changed. They felt a female gorilla's pursuit of a man would be on par with bestiality.