Simply put, a collection of the Abbott and Costello films, starring Bud Abbott and the con-man straight man, partner to his pal, the comedian Lou Costello. The DVD includes the 6 films (click the titles for individual reviews):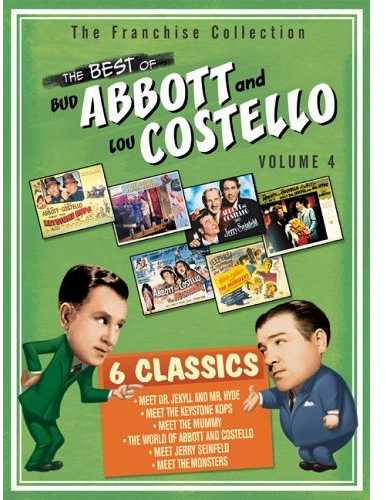 Abbott and Costello Meet Dr. Jekyll and Mr. Hyde

Slim (Bud Abbott) and Tubby (Lou Costello) are American cops in London to study police tactics. They wind up in jail and are bailed out by Dr. Jekyll. Jekyll has been murdering fellow doctors who laugh at his experiments. He has more murders in mind. At one point the serum that turns Jekyll into the murderous Hyde gets injected into Tubby.

Abbott and Costello Meet the Keystone Cops

Harry and Willie buy the Edison Movie Studio in the year 1912 from Joseph Gorman, a confidence man. They follow Gorman to Hollywood where, as stunt men, they find him directing movies as Sergei Trumanoff and stealing the studio payroll.

Abbott and Costello Meet the Mummy

In Egypt Peter and Freddie find the archaeologist Dr. Zoomer murdered before they can return to America. A medallion leads them to a crypt where a revived mummy provides the terror.

The World of Abbott and Costello

A documentary featuring a compilation of clips from 19 Abbott & Costello features: The Wistful Widow of Wagon Gap, In the Navy, Hit the Ice, Who Done It?, Abbott and Costello Meet Frankenstein, Mexican Hayride, Hold That Ghost, Abbott and Costello in the Foreign Legion, Little Giant, In Society, Ride 'Em Cowboy, The Naughty Nineties, Buck Privates Come Home, Buck Privates, Abbott and Costello Meet the Keystone Kops, Lost in Alaska, Comin' Round the Mountain, Abbott and Costello Go to Mars and Abbott and Costello Meet the Mummy.

Abbott and Costello Meet Jerry Seinfeld

A loving tribute to Abbott and Costello from comedian Jerry Seinfeld  

Abbott and Costello Meet the Monsters

A behind-the-scenes documentary of the making of the Abbott and Costello Meet … the various monsters from Universal Pictures
Editorial Review of  The Best of  Abbott and Costello  volume 4, courtesy of Amazon.com
America's most beloved comedy team pair up with a cast of monsters and The Keystone Kops in this collector's set filled with 6 classics. The last installment in this hilarious franchise includes revealing documentaries and interviews that give an in-depth look at the genius behind Abbott and Costello and their continued popularity. Also featured is the making of the original classic Abbott and Costello Meet Frankenstein, which spawned an industry of comedy/horror films. Partnered with great legends like Boris Karloff, these masterpieces truly stand the test of time.