Hold that Ghost (1941) starring Bud Abbott, Lou Costello, the Andrews Sisters
Hold that Ghost is the third Abbott and Costello movie of 1941. And perhaps their funniest of all time. It was rushed into release to capitalize on the wild box office success of their first two starring films, Buck Privates and In the Navy. In Hold that Ghost, Bud and Lou come into an inheritance: an abandoned roadhouse formerly belonging to a "rubbed out" mobster. This choice piece of real estate is also supposedly the hiding place for the mobster's illicit loot. When they arrive to claim the "inheritance", all mayhem breaks loose. People die mysteriously. Lights go on and off. Walls turn inside out. People hear Moans and shrieks. And ghosts run rampant in this delightful comedy co-starring Joan Davis, who is hilarious as a "professional screamer," and featuring musical performances by The Andrews Sisters.
Synopsis of Hold That Ghost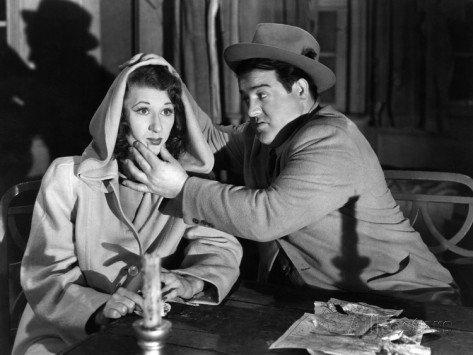 Hold that Ghost deals with Bud Abbott and Lou Costello as gas station attendants, who inherit an abandoned roadhouse from a deceased mobster, due to his odd will bequeathing it to the people close to him when he died. Bud and Lou go there, accompanied by several other people — but it turns out that the gangster has hidden his wealth there, and several of his old cronies are looking for it, and are trying to get rid of Bud, Lou and their new friends by hook or crook – or murder.
Review of Hold that Ghost
Hold that Ghost is, in short, one of the funniest movies that I've ever seen. The comedy comes fast and furious, the pace is quick, the cast is excellent. The movie is "bookended" by scenes set in a a nightclub. These highlight performances by the Andrews Sisters, and Ted Lewis. In addition to a short appearance by Shemp Howard (as a soda jerk in the store where Bud, Lou, and others are waiting for their ride), there are several other major cast members,
People who are literally "along for the ride" and become trapped at the abandoned roadhouse — Doctor Jackson (Richard Carlson), Norma Lind (Evelyn Ankers), Camille Brewster (Joan Davis), and Charlie Smith (Marc Lawrence). Charlie is actually part of the deceased mobster's gang, looking for "Moose" Mattson's loot. And since there's no honor among thieves, he's the first one to die.
The movie quickly turns into a "haunted house," with mysterious things happening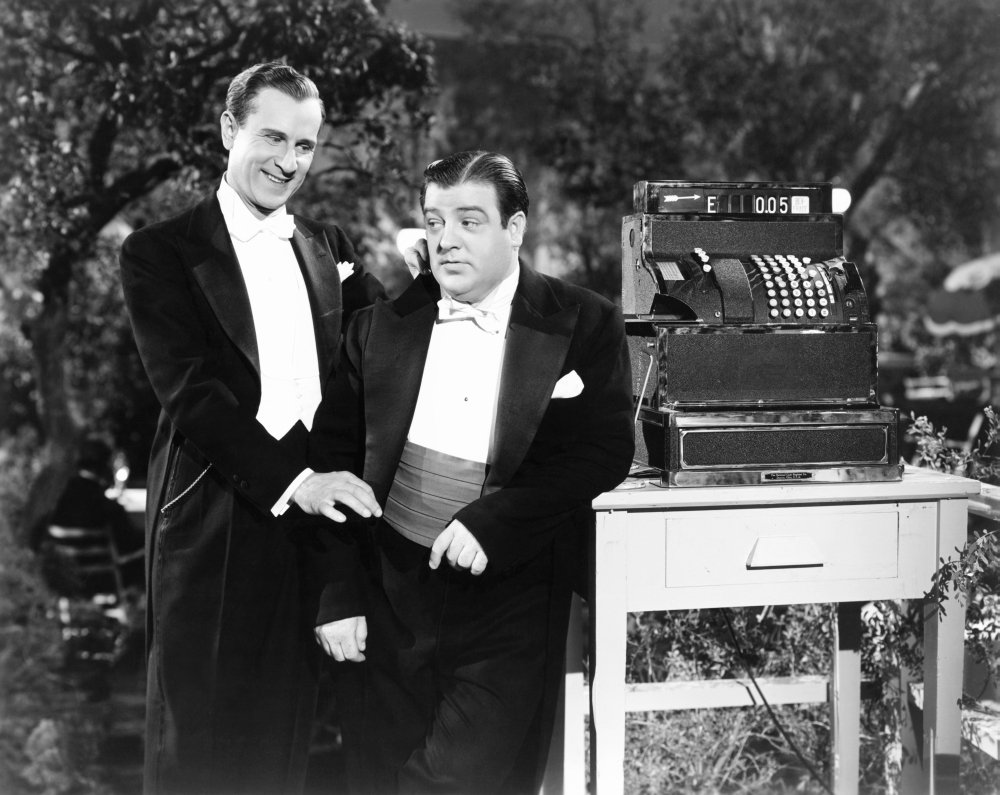 Cast of characters
Chuck Murray (Bud Abbott, Abbott and Costello Meet Frankenstein). One of the two witnesses to the mobster's death, who becomes an inheritor along with his friend:
Ferdinand Jones (Lou Costello, Keep 'Em Flying). The short, chubby, scaredy-cat who also inherited the roadhouse. He's hilarious in a comedic relationship with the very funny Joan Davis!
Doctor Jackson (Richard Carlson, It Came From Outer Space).
Norma Lind (Evelyn Ankers, The Wolf Man). The well-known "scream queen" — who gets to live up to her name here.
Camille Brewster (Joan Davis, I Married Joan). A wonderful comedic foil for Lou Costello.
Charlie Smith (Marc Lawrence).
Songs
When My Baby Smiles at Me (1920). Music by Bill Munro, Lyrics by Ted Lewis & Andrew B. Sterling. Played during the opening credits. Played by Ted Lewis and His Orchestra (as Ted Lewis' Orchestra) and sung by Ted Lewis at the nightclub.
Me and My Shadow (1927). Written by Al Jolson, Billy Rose and Dave Dreyer. Played by Ted Lewis and His Orchestra (as Ted Lewis' Orchestra) and sung by Ted Lewis at the nightclub.
Sleepy Serenade (1941). Music by Lou Singer, Lyrics by Mort Greene. Played by Ted Lewis and His Orchestra and sung by The Andrews Sisters at the nightclub .
Aurora, Written by Mário Lago and Roberto Roberti (1940), English lyrics by Harold Adamson (1941). Played by Ted Lewis and His Orchestra and sung by The Andrews Sisters at the new health spa
Trivia for Hold that Ghost
Although Lou Costello plays the part of someone how can't drive a car, at this point Bud Abbott actually couldn't drive. He didn't get a driver"s license until filming The Time of their Lives
The Andrews Sisters were brought in after filming wrapped. The final nightclub footage was edited in after the film's completion.
This film went into production under the title "Oh Charlie!" as Bud Abbott and Lou Costello's second feature film and follow-up to their wildly successful Buck Privates. Production was completed in February 1941 just as "Buck Privates" was breaking box office records across the country. Universal was worried that the new scare comedy had no real connection to the first hit (preview audiences reportedly asked where The Andrews Sisters were). A nervous studio decided to shelve "Oh Charlie!" and rework it at a future date and concentrated instead on pushing a new service comedy, In the Navy, through production as the team's next feature. Upon completion of "In the Navy," this film went back into production in May 1941 as "Hold That Ghost" with the addition of the opening and closing nightclub scenes (which added Mischa Auer, Ted Lewis, The Andrews Sisters and musical numbers to the proceedings). The new scenes required a rewriting and reworking of the existing footage. Joan Davis, who had by that time reported to 20th Century-Fox for a role in Sun Valley Serenade, was unavailable for the re-shoots. She had to be written out of the new scenes (including the new nightclub finale).
[Updated August 30, 2022]