Dance with Me, Henry (1956) Bud Abbott and Lou Costello'€™s final film together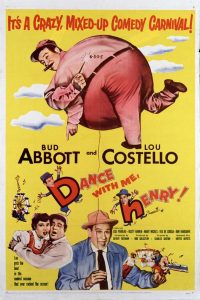 Abbott and Costello's Dance with Me, Henry is not the best film that Abbott and Costello made. But it's far from their worst (I, personally, reserve that 'honor'€™ for Africa Screams). The basic plot is that Lou (Lou Costello) runs the local amusement park. He takes care of his adopted children, and his gambling friend, Bud (Bud Abbott). Bud's gambling debts cause him to be watched like a hawk by a gangster. The gangster, in turn is being watched by the district attorney. When the D.A. is murdered, Lou becomes the prime suspect. Leading to a hilarious sequence where Lou is questioned by the police. And through the long, intense interrogation, he breaks down each police officer, one after another. To make matters worse, a social worker (Mary Wickes) wants to take Lou'€™s children away.
The positive points to the movie are spotlighting Lou Costello, who was trying to break away into solo films. The interrogation, and the production values of the film are very good as well. This final film is now available on DVD, and you are invited to see for yourself if it deserves the bad reputation it has among many Abbott and Costello fans.
Product Description of Dance with Me, Henry, Abbott and Costello'€™s final film together
One of the greatest comedy teams of all time keeps one step ahead of the law and the criminals in this wild and wacky farce. Abbott and Costello, together for the last time, prove they're still on first with rapid-fire timing and gags galore! All Lou Henry (Costello) wants is a happy life with his two adopted children and to run Kiddyland, the local amusement park. But the local welfare board thinks he's an unfit father, and is determined to take the children away! To make things worse, his friend Bud (Abbott), always up to his eyes in gambling debt, has now run afoul of the mob and needs Lou'€™s help. Can Bud and Lou get back on the merry-go-round, or will they end up in a real shooting gallery?
Trivia for Dance with Me, Henry
The final film pairing of Bud Abbott and Lou Costello. Costello made another film after this, The 30 Foot Bride of Candy Rock, but without Abbott. Abbott never made another film.
After this movie, the Internal Revenue Service charged Bud Abbott and Lou Costello for back taxes. This forced them to sell their homes and a lot of their assets, including the rights to their films. The two mutually agreed to officially end their partnership in July of 1957.