The Wistful Widow of Wagon Gap (1947) starring Bud Abbott, Lou Costello, Marjorie Main
Abbott and Costello's movie, The Wistful Widow of Wagon Gap is a spoof on the typical Western, with Bud Abbott and Lou Costello playing travelling salesmen who stop in the Old Wild West town of Wagon Gap, Montana on their way to California. Upon entering the town, Lou shoots a pistol into the air, as the town drunk is murdered. The town then tries Lou for the murder. Under an actual Montana law of the time, they sentence him to assume the debts and dependents of the dead man. Lou is now worked to death during the day by the Widow Hawkins (played by Marjorie Main of the "Ma and Pa Kettle' movie series) and her seven children. And by the saloonkeeper at nights to pay off the dead man's debts.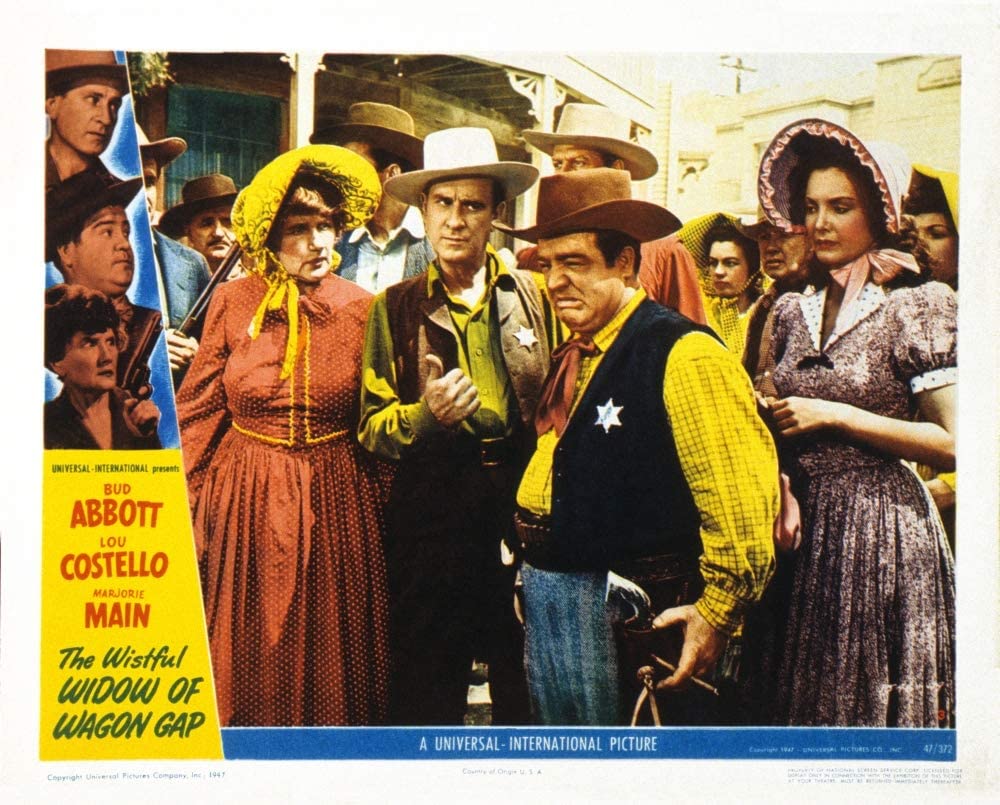 Lou then discovers that no one dares to kill him, since they would inherit the Hawkins clan. He swiftly becomes the Sheriff and starts cleaning up the town. Using a photo of the Widow and her children, in place of threatening with a gun. He begins pushing Bud Abbott around in a funny reversal of their roles. However, the rumor that the Widow's land is worth a fortune to a railroad soon has numerous people willing to kill him, in order to marry the Widow and inherit her fortune.
I rate it 3 stars out of 5.
Funny movie quotes from Abbott and Costello's The Wistful Widow of Wagon Gap
Lou Costello : That wild goose chase of yours is going to lay an egg.
---
Lou Costello: We stop the stage, the bandits are waiting for the stage, and then you show up instead of the stage.
Bud Abbott: That's pretty well-staged.
---
Lou Costello : Marriage is a three ring circus: the engagement ring, the wedding ring and suffering.
---
Trivia from Abbott and Costello's The Wistful Widow of Wagon Gap
The film was originally written for Jimmy Stewart. But when he couldn't commit to it, they rewrote it for Bud Abbott and Lou Costello. Costello playing the part originally intended for Stewart.
Lou Costello's father, a western-film buff, died during the production of this movie. As a tribute, Lou listed him in the credits as Associate Producer, Sebastian Cristillo.
The story was based on an actual law in effect in Montana in the 1880s. It stated that a man who killed another man was responsible for the care and support of his victim's family.
The Wistful Widow of Wagon Gap is the only Abbott and Costello feature adapted for the Abbott and Costello comic book.
Cast of characters
Bud Abbott … Duke Egan
Lou Costello … Chester Wooley
Marjorie Main (The Egg and I) … Widow Hawkins
Audrey Young … Juanita Hawkins
George Cleveland (Pillow of Death) … Judge Benbow
Gordon Jones (Mike the Cop on The Abbott and Costello Show) … Jake Frame
William Ching (Scared Stiff) … Jim Simpson
Peter M. Thompson … Phil
Bill Clauson … Matt Hawkins
Billy O'Leary … Billy Hawkins
Pamela Wells … Sarah Hawkins
Jimmy Bates … Jefferson Hawkins
Paul Dunn … Lincoln Hawkins
Diane Florentine … Sally Hawkins
Rex Lease … Hank
Glenn Strange (Abbott and Costello Meet Frankenstein) … Lefty
Edmund Cobb … Lem
Wade Crosby … Squint
Dewey Robinson … Miner
Murray Leonard (Lost in a Harem) … Bartender