The Noose Hangs High (1948) starring Bud Abbott, Lou Costello, Cathy Downs, Leon Errol

Synopsis of The Noose Hangs High
Ted Higgins (Bud Abbott) and Tommy Hinchcliffe (Lou Costello) work for the Speedy Service Window Washing Company. They run into a bookie named Nick Craig (Joseph Calleia), who, after mistaking them for employees of the Speedy Messenger Service, sends them to Mr. Stewart's (Ben Weldon) office to collect $50,000 owed to him.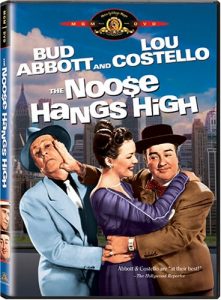 But Stewart has plans of his own…. He hires two thugs to rob Ted and Tommy of the money he has just paid. Tommy flees from the robbers and takes refuge in a room with a gaggle of women who are mailing face powder samples. He hides the money in an envelope and addresses it to Craig. But it is accidentally switched with an envelope containing a powder sample. Ted and Tommy return to Craig's office and explain what happened.
The money is in the mail?
They assure him that the cash will arrive in the mail the next day. When face powder (instead of cash) arrives in the mail, an irate Craig gives Ted and Tommy 24 hours to return his money. The boys attempt to contact everyone on the mailing list. Until they finally locate the recipient, Carol (Cathy Downs). She informs them that she spent most of the money and has only about $2,000 left.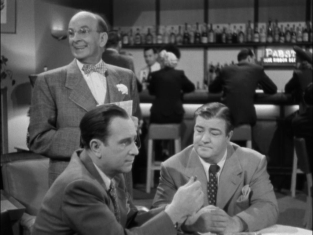 The three of them go to the race track hoping to gamble the remaining cash to win enough money to pay back Craig. They encounter a strange fellow named Julius Caesar (Leon Errol), who claims to have never lost a bet. They refuse to follow his betting advice, only to see his horse win, and they are left with nothing. Ted, abandoning hope, decides that they would be safest in jail. So they run up a huge tab in a nightclub. Just as they are about to be arrested, Craig and his henchmen show up and demand the money.
Cement overshoes?
After Ted and Tommy reply that they do not have it, the thugs take them to a nearby construction warehouse. They begin pouring cement in which to dump them. Meanwhile, Carol and Caesar have been sitting at the bar, betting large amounts on fish at the club's aquarium. Caesar loses and hands her the $50,000 that she has just won, to her amazement. It turns out Caesar is actually an eccentric millionaire named J.C. MacBride, and they all arrive at the warehouse in time to pay back Craig.
Editorial review of The Noose Hangs High courtesy of Amazon.com
Bud Abbott and Lou Costello deliver their "usual high quota of laughs" (The Hollywood Reporter) in this hysterically funny slapstick farce that boasts some of their most beloved comedy bits, such as the immortal "Mudder and Fodder" routine! Window washers Ted Higgins and Homer Hinchcliffe (Abbott & Costello) are mistaken for messengers and sent to collect $50,000 by a gangster who runs a gambling syndicate. But Homer inadvertently mails the cash to a woman (Cathy Downs) who spends it before they can track her down. Faced with a thirty-six hour deadline to come up with the gangster's dough, the desperate trio must act quickly or it'll be their necks!
Funny movie quotes from The Noose Hangs High
Dentist: You seem very high-strung. Would you like some gas?
---
Tommy Hinchcliffe (Lou Costello): Sure; and why don't you check my oil? Dentist: [answers phone] Red Cross? You want a pint of blood? [looks at Lou, laughs evilly] I'll have a quart for you in a quarter of an hour.
---
Tommy Hinchcliffe (Lou Costello): Who's going to see our footprints at the bottom of a barrel of cement?
Nick: The little fishes.
---