Ken Niles biography (December 9, 1906 – October 31, 1988)
Ken Niles (1906-1988) was an American radio and television announcer best known for his work in the Golden Age of Radio. He had a distinctive voice and a long and successful career as a radio announcer and personality.
Early Life and Career:
Ken Niles was born on December 9, 1906, in Livingston, Montana, USA.
He began his career in radio during the 1930s, working as an announcer and newscaster on various local radio stations.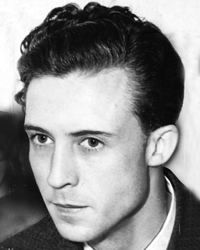 Niles is most famously remembered for his work as the regular announcer on "The Abbott and Costello Show." He played a fictionalized version of himself on the show, and his smooth voice became an integral part of the program's charm.
His interactions with Bud Abbott and Lou Costello contributed to the show's popularity. And he provided a ready foil for Lou Costello.
Other Radio Work:
Apart from "The Abbott and Costello Show," Niles was a regular on other radio programs, including "The Fred Allen Show", "The Life of Riley" and "The Eddie Cantor Show."
He also appeared in various guest roles and lent his voice to commercials and sponsor announcements.
Television and Later Career:
With the rise of television, Ken Niles successfully made the transition to this new medium. He continued his announcing work and appeared in various television shows during the 1950s and 1960s.
His television credits include appearances on programs such as "The Jack Benny Program" and "The Colgate Comedy Hour."
Later Life:
Ken Niles continued to work in the entertainment industry until his retirement.
He passed away on October 31, 1988, at the age of 81.
He was awarded a Star on the Hollywood Walk of Fame for Radio`.
Filmography of Ken Niles
| Year | Title | Role | Notes |
| --- | --- | --- | --- |
| 1937 | Hollywood Hotel | Ken Niles | |
| 1938 | Men Are Such Fools | Bill | Uncredited |
| 1939 | Sweepstakes Winner | First Radio Announcer | Uncredited |
| 1941 | Harmon of Michigan | Ken Niles | |
| 1943 | Hit Parade of 1943 | Announcer | Uncredited |
| 1943 | Shantytown | Radio Announcer | Uncredited |
| 1944 | Lady, Let's Dance | Announcer | |
| 1945 | Swingin' on a Rainbow | New York City Radio Announcer | Uncredited |
| 1946 | The Inner Circle | Ken – Radio Announcer | |
| 1947 | Magic Town | Reporter | Uncredited |
| 1947 | Out of the Past | Eels | |
| 1948 | You Were Meant for Me | Narrator | Voice, Uncredited |
| 1949 | My Friend Irma | Radio Contest Announcer | Uncredited |
| 1951 | The Fat Man | Dr. Henry Bromley D.D.S. | Uncredited |
| 1956 | NBC Matinee Theater | | Episode: "The Young and the Damned" |
| 1962 | The Donna Reed Show | Professor Earnshaw | Episode: "Explorer's Ten" |
| 1968 | The Bob Hope Show | | 1 episode, (final appearance) |