Biography of Hillary Brooke (September 8, 1914 – May 25, 1999)
Hillary Brooke (born Beatrice Sofia Mathilda Peterson was an American film actress. She performed in a wide range of roles, from drama to comedy, and may be best remembered for her appearances with Abbott and Costello.
Hillary Brooke was born on September 8, 1914 as Beatrice Sofia Mathilda Peterson in Astoria, New York, USA. Her older brother, Arthur, was also an actor.
She graduated from Columbia University in New York City. Before going into acting, she performed as a photographer's model. When she did begin acting, in order to set herself apart from other blonde actresses, she began cultivating an English accent, and a "classy" demeanor. This served her well during her entire career.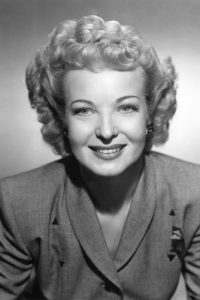 On November 27, 1936 married for the first time to actor Allen Schute. The following year, she had her film debut in New Faces of 1937. She made a number of appearances in films over the next few years, typically without screen credit. Examples include The Philadelphia Story, Dr. Jekyll and Mr. Hyde, Maisie Was a Lady, among others.
In her personal life, on October 3, 1940 she divorced Allen Schute. The following year, on December 17, 1941 she married for the second time to Jack Voglin.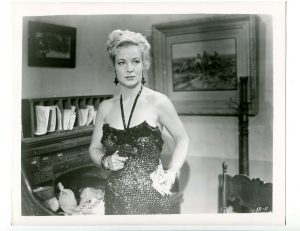 Her acting career continued in 1942 with Wake Island, Ship Ahoy with Red Skelton. In 1943, she began getting screen credit with appearances in Jane Eyre and Sherlock Holmes Faces Death with Basil Rathbone & Nigel Bruce. She appeared in two more Sherlock Holmes films with the pair.
In the 1940's, her career continued with Lady in the Dark, Ministry of Fear, The Enchanted Cottage, The Woman in Green. She started appearing in comedies such as Monsieur Beaucaire with Bob Hope, Up Goes Maisie with Ann Sothern, Road to Utopia with Bob Hope and Bing Crosby, and The Fuller Brush Man with Red Skelton.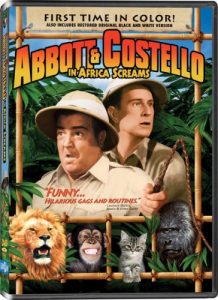 On July 21, 1948, she divorced Jack Voglin. In 1949, she began appearing with Bud Abbott and Lou Costello, first in Africa Screams, then on their television show The Abbott and Costello Show. She had a recurring role as Lou's girlfriend, a classy, dignified woman who always referred to him as "Louis".
She continued appeared in both movies and on television, playing Roberta Townsend, the glamorous love interest of Margie's father in My Little Margie. In 1952, she appeared in Abbott and Costello Meet Captain Kidd — playing a female pirate. She also had a role in the cult classic Invaders from Mars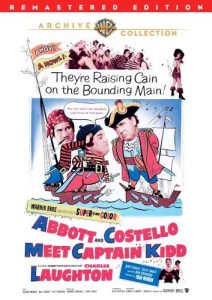 In 1956, Hillary Brooke played Doris Day's best friend Jan Peterson in The Man Who Knew Too Much. Interestingly, Peterson was Brooke's real birth name. In 1957, she made her final film, in Spoilers of the Forest.
In 1960, she married for the final time to film executive Raymond A. Klune, Shortly after, she retired from films. They remained married until her husband's death in 1988.
On May 25, 1999, Hillary Brooke died of a blood clot in the lung.