The Abbott and Costello Show season 2 is the second — and final — season of Abbott & Costello's foray into television. It continues the status quo of the previous season. Abbott and Costello are living in Sid Fields' boarding house, perpetually broke, and tyring to find a way to pay their bills.
Episode 27, The Paper Hangers, originally aired November 7, 1953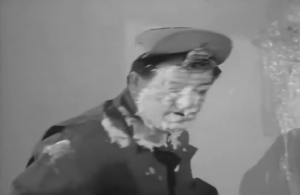 While attempting to free it from a tight space, the boys damage Mrs. Bronson's car. To appease her – and get Bud and Lou to work off their back rent – Mr. Fields has the boys wallpaper her apartment. Later, they become waiters at a tough seafood joint where they get into a brawl.
---
Episode 28, Uncle Bozzo's Visit, originally aired November 14, 1953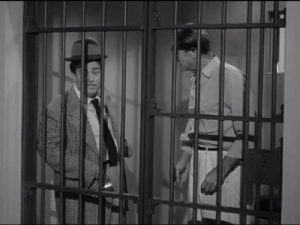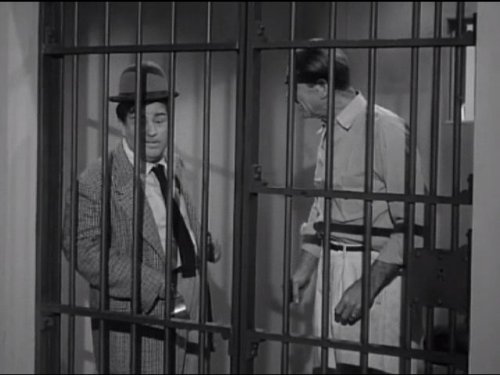 Lou's unemployed, opera singing Uncle Bozzo arrives from Italy and wreaks havoc with his booming voice. After a run in with Mike the Cop, the boys and Bozzo get arrested. While in jail, a fellow prisoner recruits them to assist in his escape.
---
Episode 29, In Society, originally aired November 21, 1953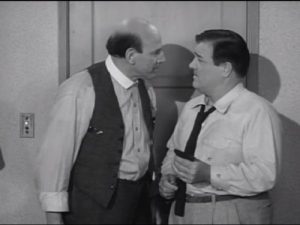 Mrs. Olga Van Goo, a wealthy society woman, hires Bud and Lou to impersonate the Duke of Gluten and the Earl of Waldo at her formal reception. But a series of etiquette miscues leads to a food-flinging finale.
---
Episode 30, Life Insurance, originally aired November 28, 1953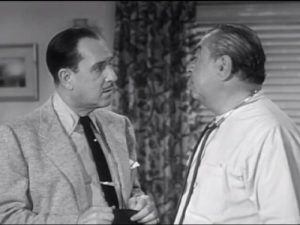 Mr. Fields wants Bud to take a life insurance policy out on Lou that names him as beneficiary. Wary of their motives, Lou is too nervous to pass the physical, so Bud takes him on a hunting trip to relax.
---
Episode 31, Pest Exterminators, originally aired December 5, 1953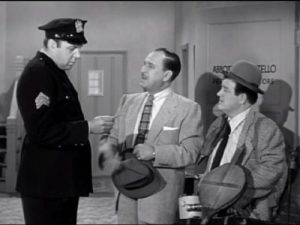 The boys have a new pest extermination business. While on a job at a psychiatrist's office, they answer a phone call from a Mrs. Featherton, who asks them to come to her house to "take care of her aunts."
---
Episode 32, Killer's Wife, originally aired December 12, 1953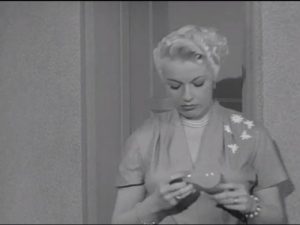 Prizefighter Killer King (Max Baer) moves into the rooming house and becomes convinced that Lou is fooling around with his wife, Dixie. When Costello accidentally knocks Killer's sparring partner unconscious, Bud volunteers Lou to take his place.
---
Episode 33, Cheapskates, originally aired December 19, 1953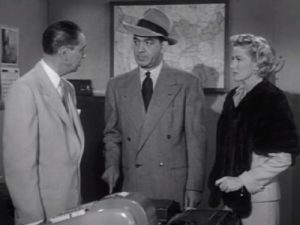 Bud and Lou accidentally purchase a crate of roller skates at an auction. Unbeknownst to them, the skates have diamonds hidden inside of them, and the smugglers behind the scam have moved into the rooming house.
---
Episode 34, South of Dixie, originally aired December 26, 1953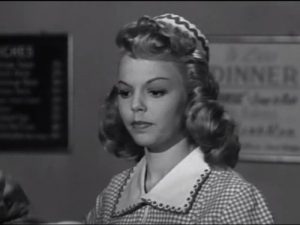 Lou is smitten by a cute new neighbor. Thinking that she is in distress, he bursts into her apartment and into her rehearsal for a Civil War melodrama. Lou is so magnificent in his rescue effort that he lands a role in the play.
---
Episode 35, From Bed to Worse, originally aired January 2, 1954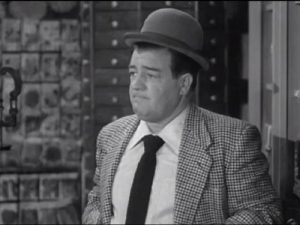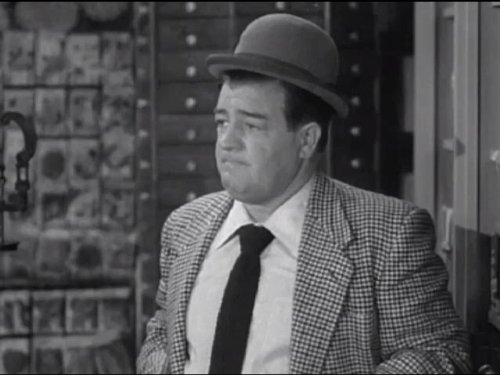 While working in a garden supply store, Bud and Lou learn that a civic group is offering a cash prize for the best backyard garden. The boys decide to enter the competition, but provoke a feud with their next door neighbor in the process.
---
Episode 36, $1000 TV Prize, originally aired January 9, 1954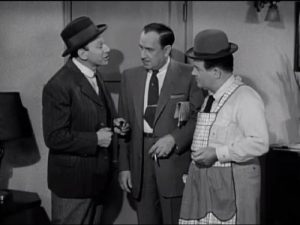 While trying to repair Mr. Fields' television set, Lou answers a phone call from the "Money to Burn" quiz show and provides the correct response to the $1000 question. The prize money will be delivered that night, so Bud and Lou scramble to keep Mr. Fields and Mike the Cop out of the way.
---
Episode 37, Amnesia, originally aired January 16, 1954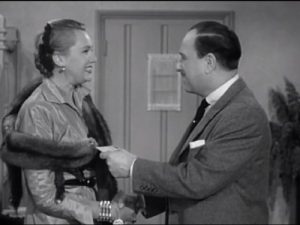 Lou plans to marry Edna, his lonely-hearts penpal, but Bud wants to break up the romance. He convinces Lou that he has amnesia and has a friend pose as Edna to make his life miserable.
---
Episode 38, Efficiency Experts originally aired January 23, 1954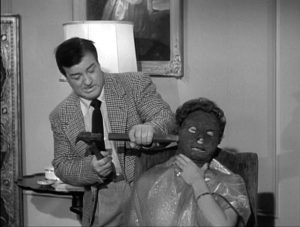 Bud and Lou land jobs as efficiency experts, and are assigned to restrain their client's daughters from spending money. The young women, however, get the boys to buy them expensive dresses and take them to a casino, where they end up in a brawl.
---
Episode 39, Car Trouble originally aired January 30, 1954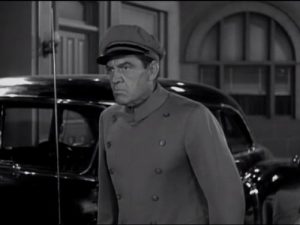 Lou wins an Edam automobile in a mail-in contest, but Bud sells it so they can go to Flint, Michigan and buy a new car. On their trip they encounter Mike the Cop's twin brother, hobos and an irate sheriff.
---
Episode 40, Wife Wanted originally aired February 6, 1954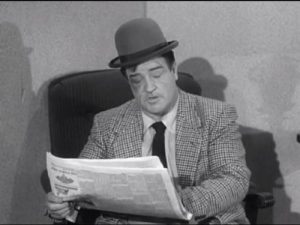 After a quirky poker game with Mr. Fields, the boys get a letter from Lou's grandfather, who plans to give him $10,000 if he is married. After several attempts to meet women, Lou reconnects with his former girlfriend, Agnes, who has just broken up with a jealous wrestler.
---
Episode 41, Uncle from New Jersey originally aired February 13, 1954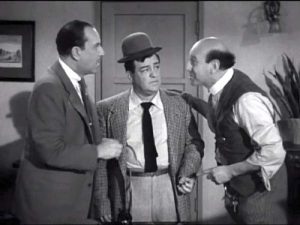 After Mr. Fields locks the boys out of their apartment, Bud hatches a plan to convince the landlord that Lou is the sole heir to the fortunes of his rich Uncle Ruppert. To pull off the scheme, Bud disguises Lou as his uncle, but Mike the Cop starts to believe that Ruppert has been bumped off by the boys.
---
Episode 42, Private Eye originally aired February 20, 1954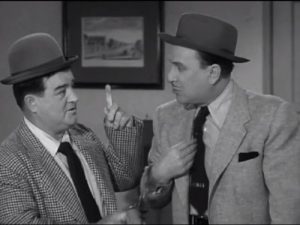 After Lou receives his diploma and private eye gear from "The Watchdog Correspondence School," he and Bud help a young girl locate $50,000 of bonds hidden inside her eccentric uncle's spooky mansion. But her cousin, who was disowned, tries to scare them off.
---
Episode 43, The Tax Return originally aired February 27, 1954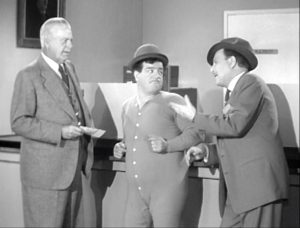 The IRS accidentally sends Lou a refund for $1 million. After he cashes the check at the bank, he is followed home by a pair of crooks. Meanwhile, Mr. Fields suspects that Lou is a counterfeiter.
---
Episode 44, Public Enemies originally aired March 6, 1954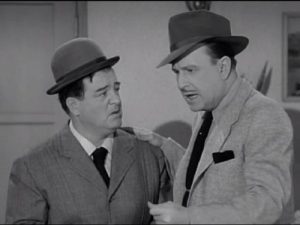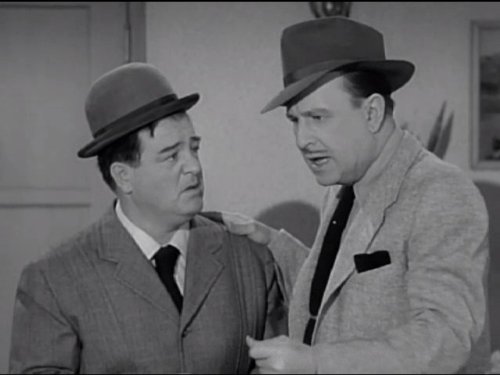 When a newspaper runs a story about safe-cracker "Dapper Dan" and accidentally includes Lou's photograph, a band of thieves living in the rooming house force him to join them in a warehouse robbery.
---
Episode 45, Bank Holdup originally aired March 13, 1954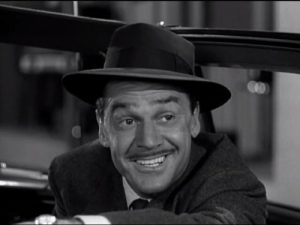 Bud and Lou are hired as armed guards for hoodlums Joe and Lefty Lucas, and unwittingly assist in a bank robbery. They pay rent with their cut of the money, then attempt to recover the stolen cash from Mr. Fields' safe.
---
Episode 46, Well Oiled originally aired March 20, 1954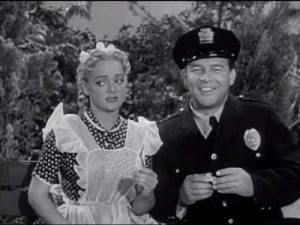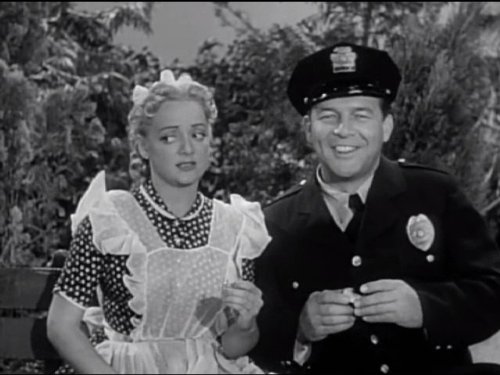 When Mr. Fields is threatened with a breach of promise lawsuit from a gold digging woman, the boys come to his aid. With Bud acting as his chauffeur, Lou poses as a Texas oil tycoon in an attempt to romance and discredit her.
---
Episode 47, The Pigeon originally aired March 27, 1954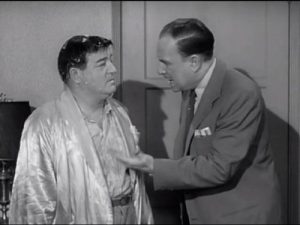 A beautiful next-door neighbor, Ruby Norton, wants to rid herself of her mobster boyfriend, Steve Terry, so she can marry another man. She hatches a plan to make Terry think that Lou is her lover so that he will kill Lou and go to jail.
---
Episode 48, Honeymoon House originally aired April 3, 1954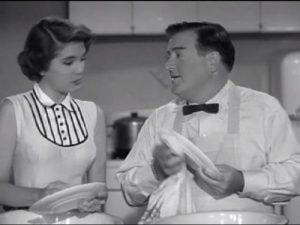 With the aid of Bud and Mr. Fields, Lou constructs a prefabricated house for his fiancée, Sally. The new construction is sabotaged by Sally's former boyfriend, and when her parents arrive to inspect the dwelling, they are nearly killed.
---
Episode 49, Fencing Master originally aired April 10, 1954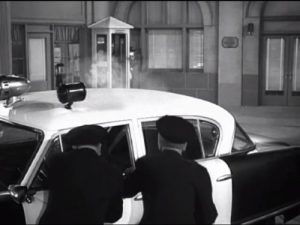 Bud volunteers Lou as a human guinea pig in a zany experiment performed by a mad scientist, Dr. Bluzak. Lou thinks he's indestructible until he gets challenged to a duel by a French fencing master.
---
Episode 50, Beauty Contest Story originally aired April 17, 1954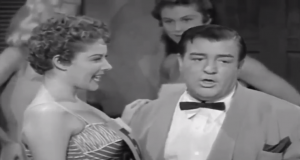 Mr. Fields asks Bud and Lou to judge the "Miss Mud Turtle" beauty pageant for his lodge – and expects the boys to pick his niece as the winner. But then a tough thug pressures them to crown his girlfriend. And then, a young beauty starts paying attention to Lou as well …
---
Episode 51, Fall Guy originally aired April 24, 1954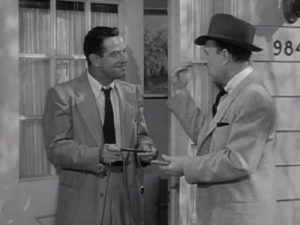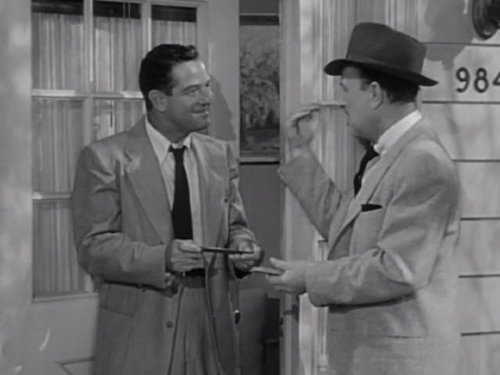 After a penniless day of trying to sell "No Peddlers Allowed" signs, Bud and Lou are approached by two men with a scheme that will land them two hundred dollars. All they have to do is take two sisters out on a date and then switch places with the men. But as soon as they arrive at the girls' home, their father has the boys install a new TV antenna on his roof.
---
Episode 52, Barber Lou originally aired May 1, 1954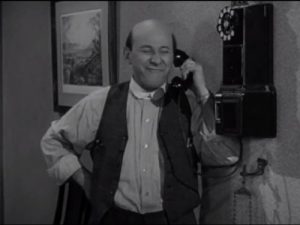 After helping Mrs. Bronson with her amateur benefit show, Bud is exhausted and asks Lou to give him a relaxing rub down by following the instructions of a radio masseuse. When the broadcast switches over to a commercial for re-painting a car at home, the oblivious Lou follows those directions.
---