From Bed to Worse – While working in a garden supply store, Bud and Lou learn that a civic group is offering a cash prize for the best backyard garden. The boys decide to enter the competition, but provoke a feud with their next door neighbor in the process.
Act I – From Bed to Worse
From Bed to Worse begins with Lou Costello fighting with setting up an ironing board. And the ironing board's winning. He finally throws it across the room in frustration, and the table's set up! Then Bud Abbott comes in with the news that he's gotten them a job at a plant nursery. Which leads to Bud sitting on a hot iron! Soon, they're playing "hot potato" with it, when Sid Fields walks in. And now it's a three-way game!
Next, they're working at the store, where Lou assaults and insults various customers.
Customer: Peet Moss!
Lou Costello: Hiya, Pete!
Customer: Got any thyme?
Lou Costello: I've got plenty of time. [throws a clock into the bag]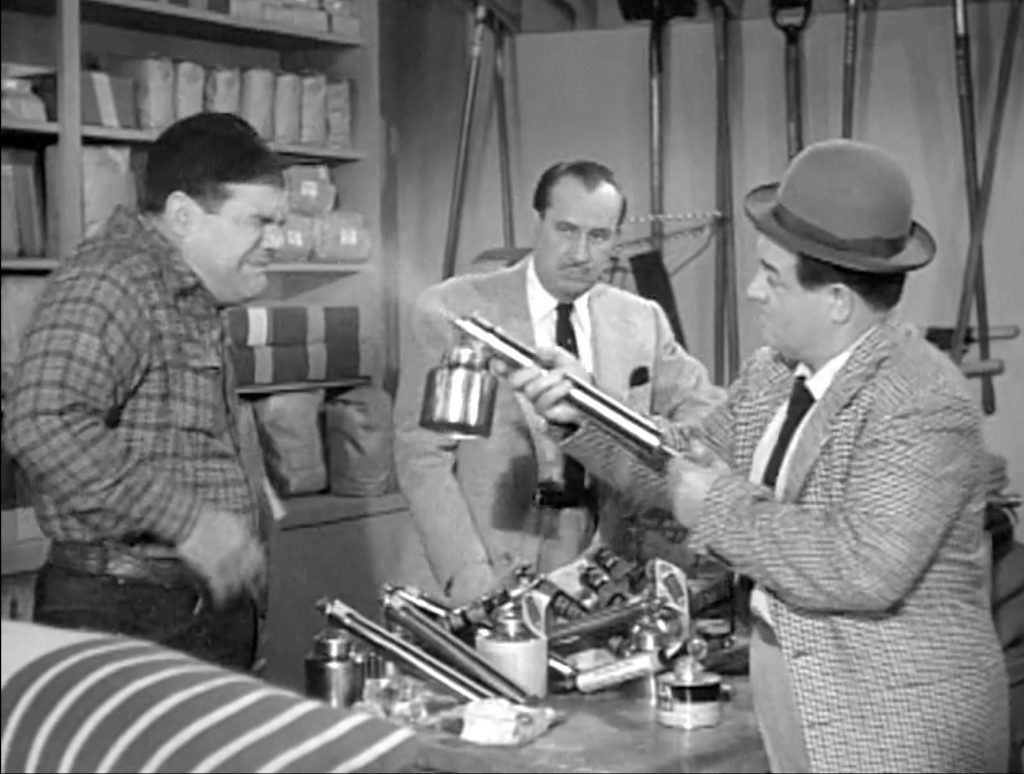 Customer asks for bulbs, Lou puts light bulbs in his bag. Meanwhile, a lovely young customer confuses Bud about "grafting". And Lou's assaulting another customer. After some clowning around, their neighbor Bill comes in, to buy supplies. There's a contest for the best garden, with a $1,000 prize! And you can see the light bulbs above their heads. Then Lou clownishly assaults Bill multiple times. Eventually, Lou falls off a ladder, pulling down an entire wall of shelving.
Act II – From Bed to Worse
Having been fired, Bud plans to win the $1,000 prize by creating a garden in the back yard of the boarding house. Although they'll have to split their crop with Mr. Fields. And Bud Abbott's allergic to work, of course. Since they're going to have to split the vegetables, Lou wants to raise split peas.
There's the typical slapstick in the garden. Lou's planting lima beans and corn together, to raise succotash. And planting a hen's egg to get eggplant. Then Bud has Lou dig a deep hole to plant the seeds, only to hit a water pipe. Bud decides they need to blow up a stump in the yard, and then neighbor Bill's chickens find their way into the yard, leading to a confrontation.
Then, Lou decides that he'll be the expert in charge of the dynamite. Almost giving Bud a heart attack as he carelessly breaks the dynamite box open, hammers the dynamite into the hole with a shovel, etc. Bill comes in at the worst possible time, after Bud and Lou has ruined Bill's fence. He forces them to sit on the stump …. As the dynamite's about to explode! Which it does, ending the episode.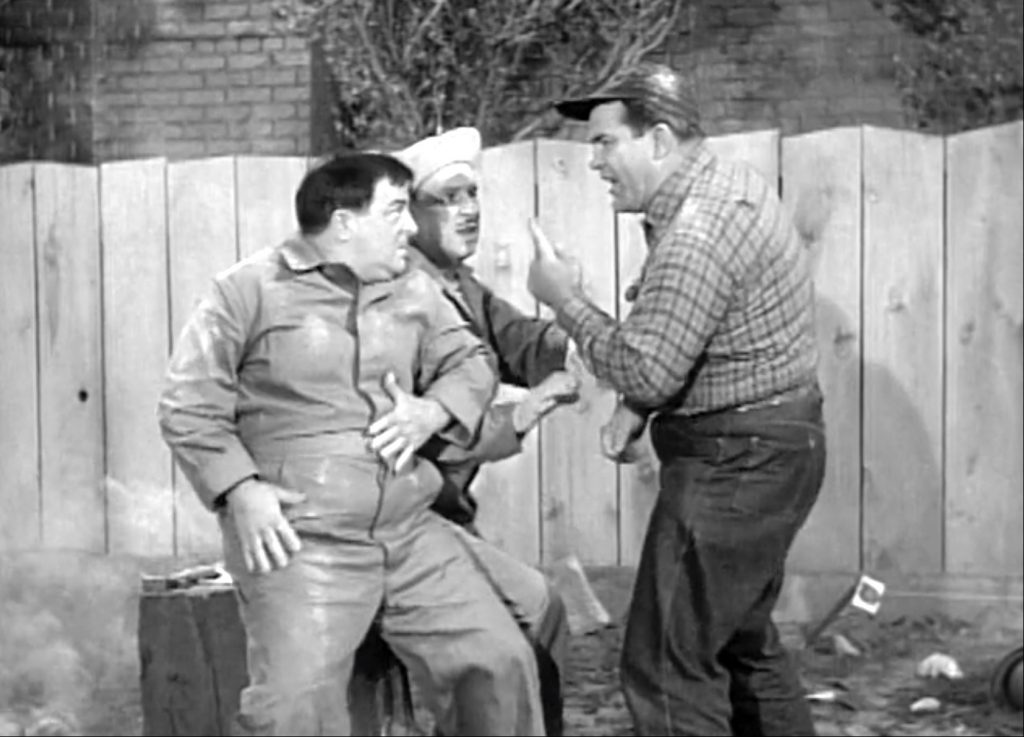 Cast of characters