In Barber Lou, after helping Mrs. Bronson with her amateur benefit show, Bud is exhausted. He asks Lou to give him a relaxing rub down by following the instructions of a radio masseuse. When the broadcast switches over to a commercial for re-painting a car at home, the oblivious Lou follows the directions …
Barber Lou is the final episode of The Abbott and Costello Show — and a very funny note to go out on. It's effectively three skits strung together in a very loose plot. The three routines are:
The traffic stop
Jeannie with the Light Brown Hair
The massage
The traffic stop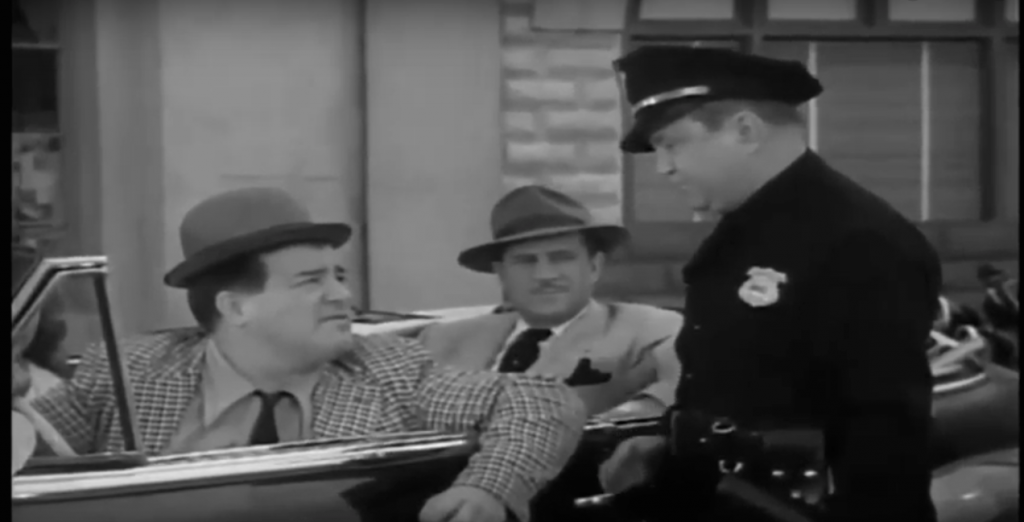 Barber Lou begin with Lou Costello driving a car, with Bud Abbott in the back seat, and two front seat passengers. Driving recklessly is an understatement. He's pulled over by a motorcycle cop (Joe Devlin) who's trying to write out a ticket. But Lou keeps misunderstanding his straightforward questions. It's also quite funny as Bud tries to help, only to have the cop keep ordering him to be quiet.
Motorcycle Cop: Do you realize you almost hit that old man about five blocks back?
Lou Costello: [pointing to Bud] It ain't my fault. He told me to.
Bud Abbott: No, no, no, officer. I didn't. I told Lou to give the old man the right of way.
Lou Costello: Oh, I thought he said 'get him right away'.
Jeannie with the Light Brown Hair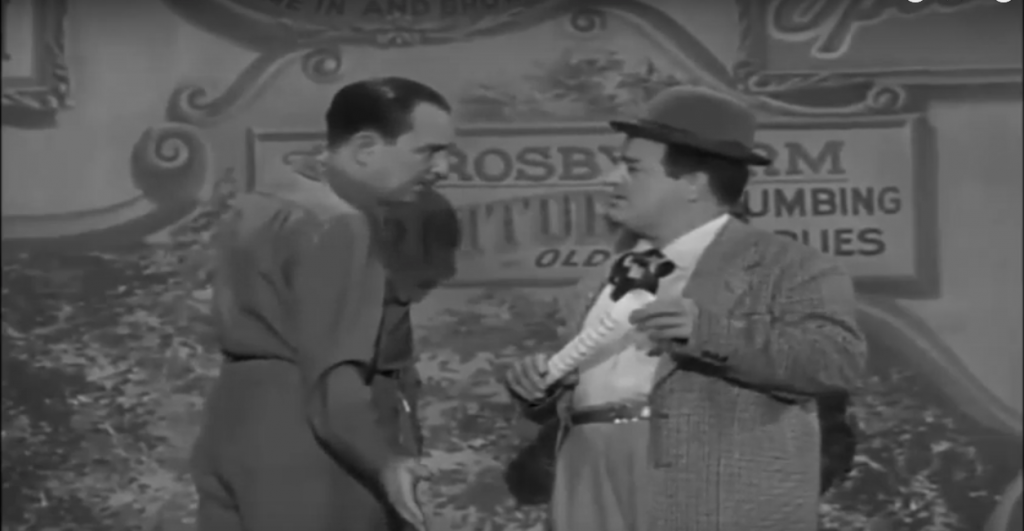 Moving on, Bud and Lou are helping Mrs. Bronson with her amateur benefit show. Bud is acting as stage manager, directing the stagehands as they move backdrops. At the same time, Lou is trying to audition for the show, singing Jeannie with the Light Brown Hair to Bud. Of course, Lou misunderstands Bud's directions to the stagehands as being to him. So "back a little", "to the left", "higher" etc. has Lou dutifully trying to follow instructions. It's a very funny routine, taken from their movie The Naughty Nineties. And just as funny here!
The massage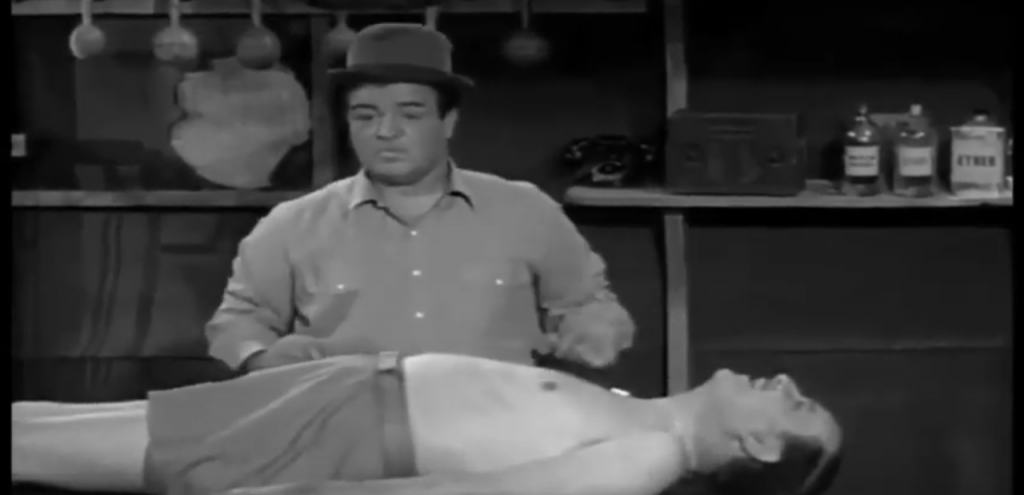 Finally, the conclusion — and reason for the title, Barber Lou. Bud is tired after a hard day of directing, and asks Lou to give him a rubdown. But, Lou doesn't know how. Not a problem! Coincidentally, Fatless Frankie's "Body Beautiful Hour" radio program is on the air. All Lou has to do is follow the directions. What could possibly go wrong?
Fatless Frankie suggests using witch hazel or rubbing alcohol. So, Lou asks Bud which he should use. Bud replies, "use either", which Lou hears as "use ether". Lou grabs a bottle of Ether from the shelf and applies it — liberally! Bud is quickly out like a light, and Lou nearly passes out as well. He walks out of the room to get skin lotion for the next step. However, the program plays a commercial by "Squeak and Rattle Body Fender Company" on "how to paint your car at home". Unaware of the change, Lou walks back in for the first step of getting rough sandpaper and checking the body for rough spots, scratches, etc. to sand off. Lou keeps following instructions, for hammering out bulges, painting Bud's body, greasing the joints, etc. A very funny routine, and the end of the episode.
Cast of characters