Originally published in Radio and Television Mirror,  July 1948
Is Lou Costello on the level?
Is Lou's Foundation run from the heart … or for the publicity?
The answer is in the facts, and here they are
By
William
Tusher
Behind the dignified entrance to the Costello Youth Foundation, hundreds of kids learn how to have all kinds of fun — often, as in the checker game, under the expert tutelage of President Lou Costello and Secretary Bud Abbott.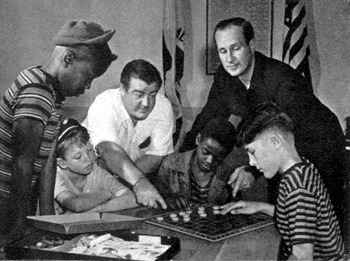 Is Lou Costello on the level?
      Is his concern for the welfare of youth a headline-grabbing sham? Is the Lou Costello Junior Youth Foundation, created as a monument to his son, a fraud?
      Ugly rumors are heard: It'€™s a cheap publicity stunt … It'€™s just an act … The radio comedian has been branded by a newspaper columnist as " a self-advertised friend of kids."
      Since the questions have been raised, they should be examined, and answered.
      If these attacks have any basis in fact, 10,280 enrolled members of the Foundation have been sold out, and many of the most august pillars of the Los Angeles community have been duped in a fabulous swindle. So let'stake a look a the facts:
      The Foundation has been in existence for two years. From an opening enrollment of 2,000, its membership has swelled to 10,280 youngsters from the ages of six to nineteen, with 5,000 additional members anticipated in the forthcoming few months. There are no dues, and no conditions of membership.
      Two thousand children were taught to swim last summer at the Foundations modern swimming pool, equipped with underwater light for night use, regulation diving boards, lounge chairs, tables, brilliantly colored umbrellas, and lockers for boys and girls.
      Foundation facilities include, in addition, a softball diamond with bleachers, a 140 by 100 foot skating rink for which skates are furnished free, basketball courts, a football gridiron, badminton courts, tennis courts, ping pong tables, and outdoor barbecue, an arts and crafts room, clubrooms, workshops, classrooms, a medical clinic and a dental clinic. Both clinics are fully equipped.
      Sand boxes, a wading pool, teeter-totters, a miniature merry-go-round, slides, a large room for drawing and games, a children's library, and a record player and radio are among the features of The Little People's Department, an enclosed wonderland for tots from six to eight.
      These are available to the public seven days a week, from 10 A.M. until 10:15 P.M., under the pleasant, unobtrusive supervision of a paid staff or college-trained social and playground workers.
      Dentists and doctors are on call free of charge for needy youngsters. Children suffering malnutrition get free vitamins. Food is distributed at a foundation snack bar that boasts a complete soda fountain.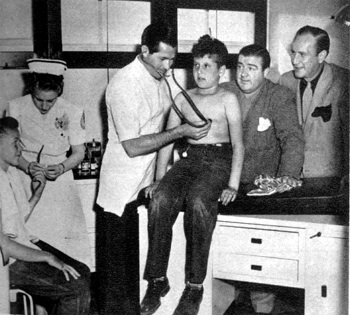 In the Foundation's fully-equipped clinic, Nurse Gonzales
and Dr. Kovner keep everyone in top condition.
      "Costello is worshipped by the kids," executive director Felix Gomez told me. "His temperament is just suited for them. He seems to have as good a time as they when he is with them. He gets out on the field and plays ball with them, goes on the merry-go-round with them, pushes them in the swings, holds them in his arms, rubs noses with them. The truth is that they never regard him as their benefactor. They look on him more as a good-natured, playful big brother."
      The letterhead of the Lou Costello Junior Youth Foundation boasts mighty impressive nomenclature -€" Costello is there as president, and his sidekick, Bud Abbott right behind as secretary-treasurer. Judge Samuel R. Blake, who presided for many years over the Los Angeles Juvenile Court, is listed as vice-president; Judge William B. McKesson, a member of the California Youth Authority and another former Juvenile Court jurist, is down as second vice-president.
      Judges, police officials, educators, religious leaders, public office holders, and important civic figures are on the roster as directors and advisory board members.
      In spite of the attacks on Costello, they've all remained. The rumors have failed to produce one resignation from the ranks!
      Two pertinent questions should be asked: How did Lou Costello get into this? What has he gotten out of it?
      Costello did not conceive of the Youth Foundation, as is commonly supposed, out of grief for his son, Lou Costello Jr., who drowned at the age of one in October 1943 in the family swimming pool in San Fernando Valley. The idea has been born before the tragedy – in a bed of pain.
      In March of 1943, Lou Costello was a very sick man. Rheumatic fever confined him to bed. Hundreds of letters from young fans, many suffering the same ailment, piled up. When the acute pain abated somewhat, Lou read the mail from the kids. He confessed to Bud Abbott the straight man of the comedy team, how deeply he had been touched. He wanted to show his appreciation. Why not open a lavish community recreation center for kids?
      Seven months later – in October – Lou was able to get out of bed for the first time since he has been stricken. Throughout his convalescence, he had broadened plans for a youth center. The day the barrel-bodied laugh maker left his bed was the day that his son drowned.
      Many in their despair would have forsaken the youth project. Costello was more determined than ever. Abbott tried to comfort his partner. He suggested naming the projected foundation after Lou Costello Junior.
      "It would be a living memorial to the boy," Bud said.
      That's how Costello got into youth works. That's how the institution got its name.
      What has he gotten out of it?
      Many things. Fun, without doubt. For it is no hardship for Costello to be among kids. He loves them. Satisfaction, plenty of it. What man wouldn't surge with pride to see a grand scheme conceived in illness grow into a pulsing reality covering three city acres? Bills, loads of them. Ask the men who keep the books. Problems, too, by the dozens.
      And publicity to be sure. Without publicity no such endeavor could hope to carry on effectively. The foundation thrives on publicity, and since it carries Lou's name there is no way short of mock modesty that he can avoid sharing in it.
      Six months after the vast recreation and character-building center opened its doors, the Los Angeles Police Department announced a 17 percent decrease in juvenile delinquency for the area served by the foundation.
      In Hollywood recently, a national charity in no way connected with the youth foundation, held a meeting among figures prominent in the film city and called for pledges. A renowned entertainer jumped out of his seat and yelled, "I will raise a million dollars for the fund."
      "I don't want to know what you're going to raise,"€ the chairman said, "I want to know what you're  going to give."
      Lou Costello measures up to that blunt yardstick. He and Bud Abbott have done more than barnstorm the country raising funds for the youth foundation. They have contributed funds. Gotten them up out of their own pockets.
      Seventy-five per cent of the $350,000 that erected the main building, swimming pool and playing fields of the foundation came from Abbott and Costello's own purses.
      They rolled up their sleeves and laid down their greenbacks. They scoured vast Los Angeles from one end to the other for months before they found a suitable site in the teeming Hollenbeck-Boyle Heights section, sore spot of the city's substandard east side. There was where the need and the challenge were greatest. There poverty and minority identity were sending hundreds of children daily into the lists of delinquent. There property owners were suffering the greatest damage from vandalism. There heartbroken parent were suffering greatest damage from wayward offspring.
      There the cry of anguish was heard louder than anywhere else in the City of Angels. Crime and accident were taking an enormous daily toll among the young. Amidst taut group tensions, in common poverty and squalor, eighteen nationalities lived side by side, among them youngsters of Mexican, Japanese, Chinese, Filipino, Negro, Spanish, Russian, English, Italian, Armenian and English origin.
      If the public, accustomed to hit-and-run philanthropists who snip a tape at a widely hailed dedication of dig up a shovel full of dirt at a cornerstone planting while newsreel cameras grind, is given to skepticism, it cannot be blamed.
      Costello was no fair weather benefactor. He came to dedicate, true, but he remained to sweat and serve and subsidize. Keeping the foundation going for the past two years has kept Costello one step ahead of the sheriff. To meet the obligations he assumed, he has had to take on such an intensive work schedule that his doctors refuse to be responsible for the consequences.
      Not only does Costello believe in the work of the foundation. He lives it, breathes it, and, no doubt, dreams it.
      It is out of Costello's own thinking that the foundation inscribed for all to see its democratic purpose:
      "All who come here have been created equal, and will be given equal privileges regardless of race, color or creed."
      Nor is this an empty statement of philosophy. No more polyglot group lives so harmoniously under on roof anywhere. The institution is run strictly along lines of democratic self-government. The children enact and enforce their own rules. They run the foundation like a little city. They hold elections for posts on the junior board of directors, for mayor, common council, prosecuting attorney, city judge, business manager and treasurer.
      For many month the foundation's future was in doubt. Costello's funds had run low. Financial support from the general public has been disappointing. Aware of the comedian's plight, several well known organized charities offered repeatedly to take over the financial obligations of the foundation. Representatives of these groups pleaded with Costello that it was too much of a burden for him to bear by himself. They assured him that the operation, name and principles of the foundation would not be changed.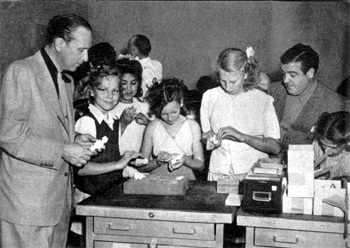 Any time Bud and Lou can spare is spent looking
over shoulders in the ever-humming Hobby Shop.
      Here was an easy, honorable was out for Costello, but he rejected it flatly.
      His business manager and friends tried to persuade him to reconsider. Costello blew his top. "You can all quit anytime you like,"€ he roared, "but I'm not quitting. I started this thing and I'm going to see it through if it costs me my last cent."
      Nobody quit.
      A dream of four years – a radio program fighting juvenile delinquency by glorifying democracy and good citizenship – was realized in December, '47 when ABC donated a coast-to-coast half hour every Saturday morning for The Abbott & Costello Kid Show.
      Format of this program was worked out by Lou and his bulky, good natured kid-show producer and writer, Ed Forman, four years earlier when a cigarette company was sponsoring the comedians were playing an Army camp in Tucson, Arizona, Lou and Forman developed the details.
      Costello couldn't wait to get going. But the sponsor vetoed the package. The company did not want to court public wrath by permitting a children's program to be associated with cigarettes.
      When Abbott and Costello moved over to ABC in 1947 on a cooperatively sponsored transcontinental half hour show Wednesday evenings, Costello revived the kid show idea.
      Costello, Forman and ABC West Coast officials, J. Donald Wilson and Bud Edwards, met at Costello's Hollywood home. The ABC emissaries snapped up the project as a public service.
      Lou came to the studios early and remained late so that he could spend more time with the children. He walked up and down the aisles, scooping infants into his arms, playing with the kids, joking with them and conversing with them, beaming all the time with unashamed pleasure. He did these things, mind you, when there was not a reporter or cameraman within miles of the studio.
      Several months after the kids show made its debut, a candy company considered sponsoring the program. Abbott and Costello recorded a sample commercial for the prospective client.
      Costello stepped to the footlights.
      "Folks," he said, "I want you to know that if this show gets a sponsor, Abbott and I will turn over our entire share to the Lou Costello Junior Youth Foundation."
      That was not a grandstand play. It is a standing offer.
      Up to now the candy deal has not materialized. There have been other bids by sponsors, but Lou has turned them down because they have demanded changes in the format. Lou will not sell the show unless he gets contractual assurance that the two spots of particular interest to children remain intact.
      These are the "Bubble or Nothing"€ quiz and the Lou Costello Junior Youth Foundation weekly award for good citizenship and heroism.
      To raise sorely needed funds for the foundation, and to extend its work to other cities throughout the country, the kid show launched a super-giveaway contest in February. A live baby elephant, a four-seater airplane, and automobile, a house trailer and a mink coat were among the avalanche of prizes exceeding $30,000 in value which were dangled to encourage letters, with or without donations, beginning with the sentence, "I want to help fight juvenile delinquency because …"
      Ed Forman was excited over the contest's fund-raising potentialities. Costello was loath to reply too much upon it.
      "You'll be surprised, "€œ Forman told Costello, "at how many letters there will ve with contributions of $25 and over."
      Costello bit at the end of his cigar.
      "I'll tell you what, Ed," he said, "You show me any contribution for $25 or more, and I'll match it."
      I checked with Forman to learn if Costello had taken his promise seriously.
      "As a matter of fact," Forman enlightened me, "I had forgotten about it, and Lou reminded me. He has equaled every donation of $25 or more."
      Costello could live comfortably on income from testimonials and recordings alone if he did not channel these funds to the foundation.
      To quote a contemporary from the public prints:
      "Lou Costello … is running a Youth Foundation in this town that is doing wonders for underprivileged kids. Lou is not running this joint for publicity. It has cost him a young fortune. As a matter of fact, the expenses are so tremendous at the moment that he cannot pack the load alone and the place is in the process of folding. If that happened it would be a disgrace to the citizens of this community."
      It hasn't happened, and will not happen, and the community is not in disgrace. But what is possibly more significant is that these are words from the typewriter of the same columnist who turned on Lou a month later.
      Is Lou Costello on the level? What do you think?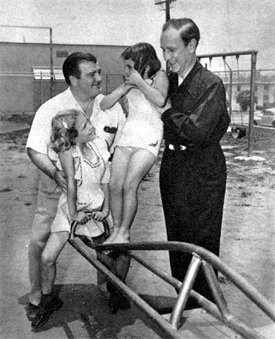 For the smallest people, there's a playground within
the larger playground, a haven for the pint-sized.