In Television, Abbott and Costello go on the early TV games show, "Hold that Cuckoo" — where Lou wins a pack of gum. Bud knocks the gum out of Lou's mouth in front of the rooming house …. Where an inebriated neighbor trips on it, and sues landlord Mr. Fields! Leading to a totally zany courtroom scene.
Act I of Television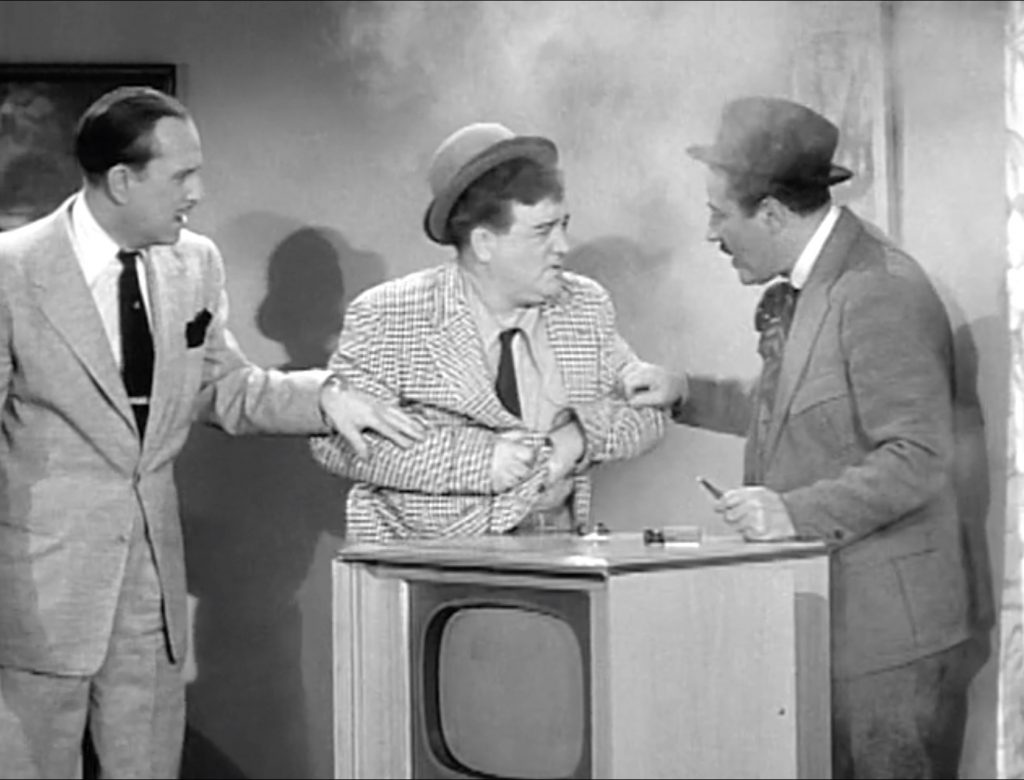 Television begins with Mr. Bacciagalupe installing a television set in Bud and Lou's room. They, with Hillary Brooke and Sid Fields are going to watch a fictional quiz program, "Hold that Cuckoo". If the TV set still works after Lou helps! The show comes on, and it's one of those "do a stunt, beat the clock" game shows. The couple on TV doesn't make it, but the announcer invites the audience to come participate. Which Lou takes as a personal invitation.
Lou Costello sends Bingo to Hillary Brooke's apartment. She reads a comedy note from Lou, asking her to babysit. "Bingo normally takes a nap between 11 and 12. I think that's too many in a bed, don't you?" While she's babysitting — and Bingo's playing around with her makeup — Bud and Lou go to the television studio. After some clowning around with a sliding door, they make it onto the set.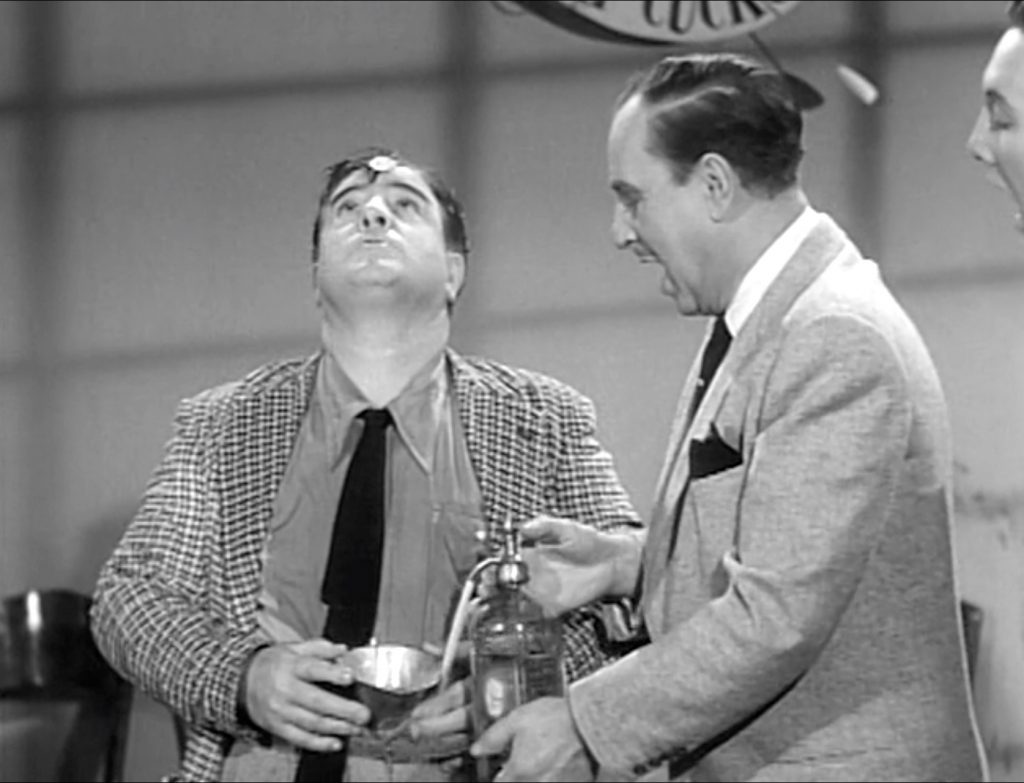 First two lady contestants answer their questions correctly — despite Lou's "help" — and win a chance at the big prize, with a "putting out the fire" game. They fail, but Lou gets soaked. Next, it's Bud Abbott's turn. His stunt is the classic funnel in the pants skit — where he gets soaked. The second part of the stunt involves Bud doing it to Lou. And Bud's befuddled, that Lou doesn't react to water being squirted down his pants …. Until Lou pulls the hot water bottle out of his pants and hits Bud with it! But, Lou's won the grand prize! A large, economy size package of …. Bubble gum.
Act II of Television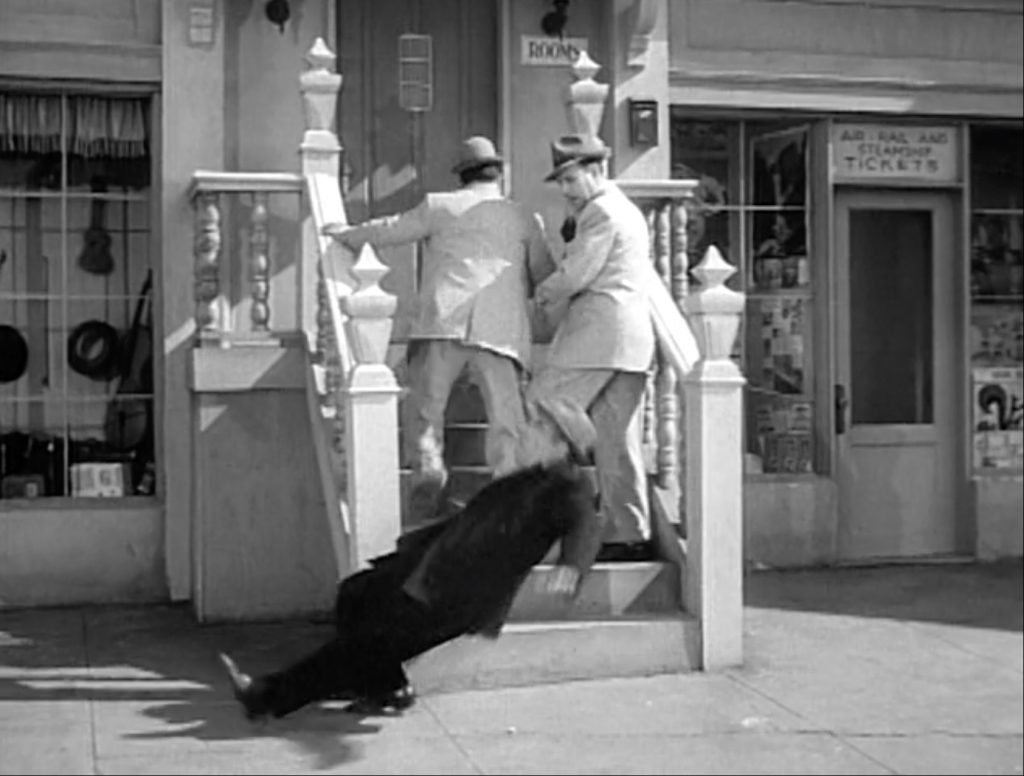 Back at Mr. Fields' boarding house, Bud has Lou spit out the bubble gum from his mouth. Their neighbor, John Rednose, falls on it …. And he's going to sue Mr. Fields! But he apparently drinks too much — "90 proof blood". Mike the Cop tries to calm the man down, but his sergeant insists that he goes by the book. So, Mike places Mr. Fields under arrest! And Lou gives him a magazine to read in jail — Outdoor Life!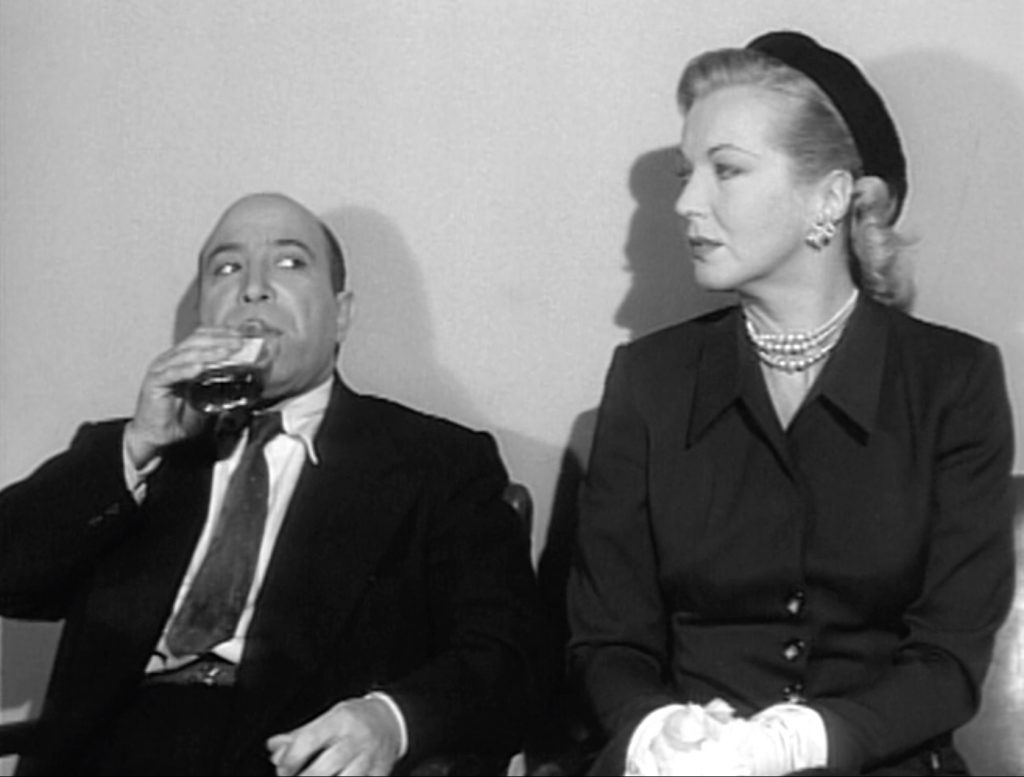 So soon, everybody's in court. And the court scene is fast-paced, slapstick chaos! Bud is "helping" Lou with his testimony. Mr. Fields is handling his own defense. He attended law school for 11 years — he was the janitor! Hillary's brought two friends to be "witnesses". And John Rednose is sneaking a drink at every opportunity.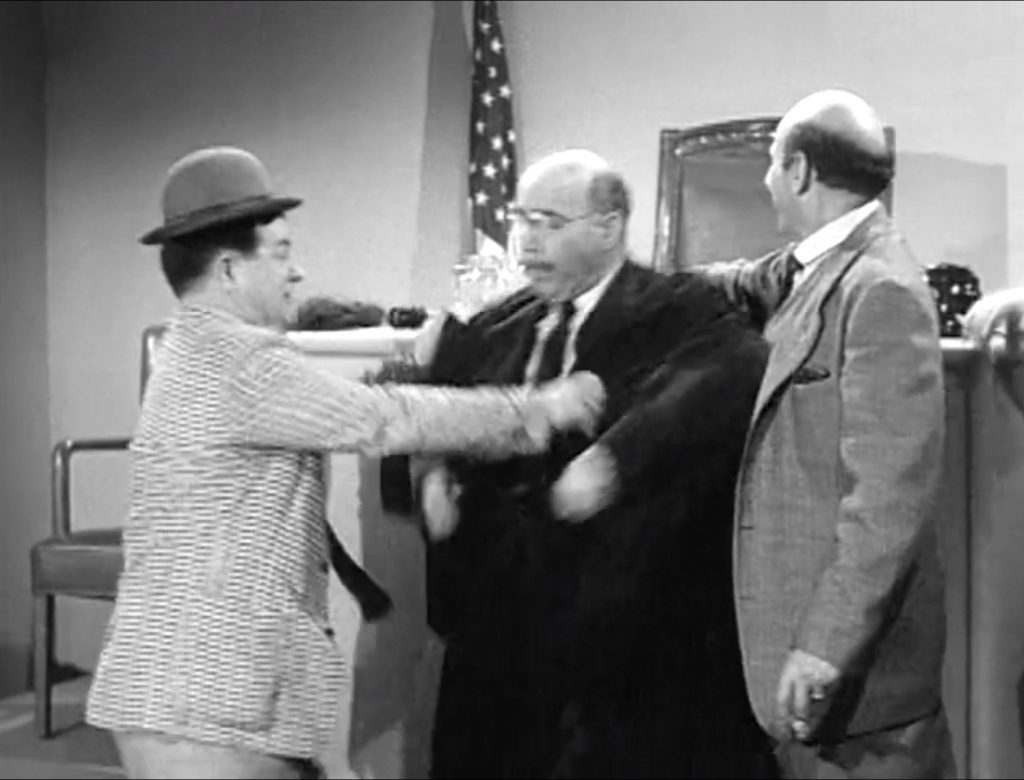 Lou Costello is very eager to give his testimony! So much so, he keeps trying at every opportunity! Hillary's friends keep crossing & uncrossing their legs, Lou tries to kill the judge's toupee — as its scurrying away! And everyone tries to demonstrate how Mr. Rednose pushed Lou (although that never happened). Ending with Lou pushing the poor judge!
At the conclusion, as Bud and Lou are addressing the audience, Lou wants to blame Hillary for the courtroom chaos. Until she shows up in an evening gown, and after vacillating for a moment, the trio walks off arm in arm, ending the episode.
Jokes
Lou Costello: Oh, I love quiz programs, Abbott. I want to tell you something about my brother, because this is very important. That's why I'm glad we got the television set in there.
Bud Abbott: Your brother Pat?
Lou Costello: My brother Pat, for 52 weeks, he's always sitting alongside his television set there, and he's always watching the quiz show, because he knows he's gonna win. He's waiting for the quiz show to call him up on the telephone, and tell him he won.
Bud Abbott: Any nothing happened?
Lou Costello: Nothing happened.
Bud Abbott: Can you imagine that.
Lou Costello: He knew all the answers, too.
Bud Abbott: He did? Knew all the answers?
Lou Costello: But next week he's gonna have a better chance to win.
Bud Abbott: Why?
Lou Costello: He's getting a telephone.
Where are you from?
[At the television studio, Bob Hopkins greets the contestants]
Bob Hopkins: Where are you from?
Margaret Plim: LA.
Bob Hopkins: Oh, Los Angeles?
Margaret Plim: No, Lake Arrowhead.
[Next contestant]
Bob Hopkins: Where are you from, Jean?
Jean Goodman: LA.
Bob Hopkins: Oh, Lake Arrowhead?
Jean Goodman: No, Louisiana.
[moving on to Abbott and Costello]
Bob Hopkins: Where are you from?
Lou Costello: LA.
Bob Hopkins: Oh, uh, Los Angeles?
Lou Costello: Patterson, New Jersey.
Cast of characters
Secondary characters
Barbara Billingsley (Leave it to Beaver, Airplane) … Becky the Cashier
Milt Bronson (Bud Abbott and Lou Costello Meet the Invisible Man) … Police Sergeant
Jean Goodman … Self – Contestant
Kathleen O'Malley (The Shootist) … Kathleen O'Malley–Contestant
Margaret Plim … Self – Constestant