In Peace and Quiet, Lou Costello is suffering from a terrible bout of insomnia. Bud Abbott takes him to see a psychiatrist, who prescribes "Dr. Drowsy's Sleep-Inducing Record." When that doesn't work, Bud checks Lou into a sanitarium for a good night's rest.
Psychiatrist's office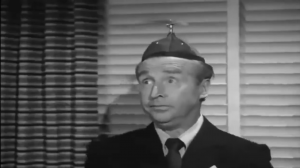 When Bud takes Lou to the psychiatrist's office, the show has fun with some of the doctor's more crazy patients. They range from a concert pianist who plays an imaginary piano (that Lou can hear) to a man who thinks he's an airplane. But, as his wife helpfully points out, he's actually a jet! The psychiatrist (Sid Fields, with a fake German accent) asks Lou about his dreams. After his "probing" analysis, the doctor's diagnosis is … Lou can't sleep at night!
Sleeping record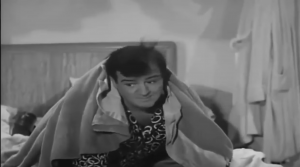 So, he gives him a record to play, to put him to sleep. Although the record puts Bud to sleep in record time, Lou's wide awake! So, Lou gives Bud earplugs, so he'll stay awake while the record plays. It's a funny bit with the ear plugs, going back and forth between the two men. It's followed by some funny solo slapstick by Lou, as he accidentally turns on the radio and alarms himself out of bed.
Crazy house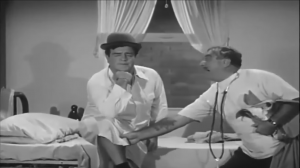 Nurse Hillary Brooke is waiting for them at the "clinic". A laughing doctor makes Lou take off his clothes. In addition to the doctor, the other patients appear quite insane. Lou is wheeled to the "peace and quiet" room. A mistake has a nurse mistake him for a mother who's just given birth. Soon, he's wheeled off to his room. Where a parade of crazy people keep bothering him …. No noise!
You will! I won't! Shot fired! [repeated]
What a lovely bed of flowers!
Do you want your palm red?
He's a pump! Pump him!
Lou finally falls asleep, and his buddy Bud checks in on him, ending the episode.
Cast of characters